VIP Lanyard Alternative Wedding Place Cards – You should know by now here at Wedfest we don't do anything regularly, and that also goes for the small things too such as wedding place cards for your wedding guests. We offer a super cool range of alternative wedding place cards to make your wedding stationery stand out from the rest. These VIP Pass lanyards are an awesome way of displaying your guests place names at the wedding tables.
Although they work perfectly for festival themed weddings you don't have to be having a festival wedding in order to use these. They are just a great alternative to regular place name cards and can have so many more uses than just displaying the guests name. For one they make a great keepsake for your wedding guests. People are always trying to come up with clever wedding favours for their guests, here it is…
Another great use for these VIP lanyard place cards is to have the wedding menu details on the reverse. That way it is doubling up as the place card and wedding menu, what more do you want??
If you do want more you could also use them to display a message to your wedding guests to thank them for coming to the wedding or whatever message you like, just like in the photo below.
Of course it doesn't stop there, you can add as many cards as you like and make it a full on lanyard programme with all the information of the wedding day, maybe details of the events the day after the wedding, details of taxi numbers, local hotel numbers, the list is endless.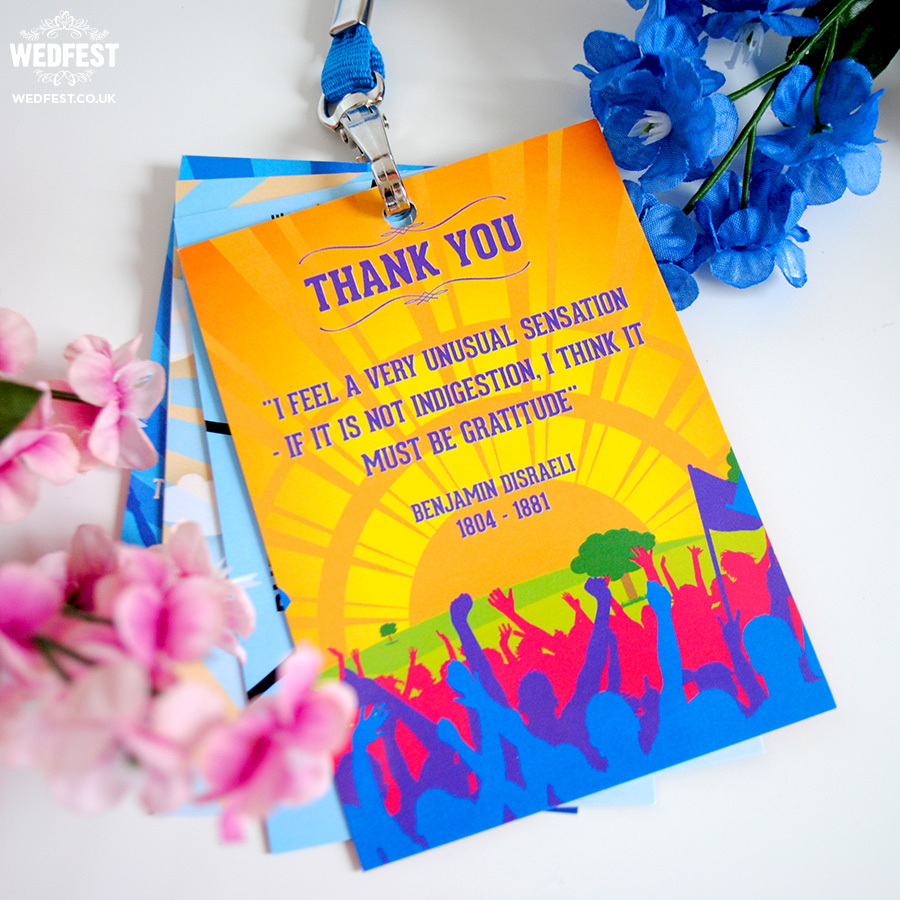 Why just settle for a plain piece of card with your guests name on it when your wedding place cards could be doing so much more. Tell your guests as much or as little information as you want. Something your forgot to mention when sending out the wedding invitations? Simply put it in a note on the wedding lanyards. Also these are great for making your guests feel like VIP's as they can walk around all day with their access all areas VIP pass and feel super important.
If you like the look of these alternative wedding place cards and would like some more information on these or any of the awesome wedding stationery on this website simply click here to get in touch and add some fun and magic to your wedding on the day stationery.
Comments
comments