Wedfest Festival Wedding Stationery
WEDFEST was born out of a need to gather up all the festival themed wedding stationery I have designed and put it in the one place. I had been designing wedding stationery for a while and kept getting more and more requests from music loving couples and Rock n Roll Brides to design their wedding stationery in a festival theme, so I have started WEDFEST and here we are…
Tell us about WEDFEST Wedding Stationery
At WEDFEST we've fast become known as the best in the business when it comes to kickass wedding stationery for rock and roll brides and grooms – a title we're very fond of! Our speciality is bringing an alternative edge to any wedding day, for Festival Weddings, Rock n Roll receptions, Bohemian Brides and beyond!
We're proud to famously supply authentic festival style ticket invitations and wristbands, but we also cater for the rest of your big day too. We have bucket-loads of fantastic designs to choose from, and we also offer full customisation options or are happy to collaborate with you to create something new, unusual, and most importantly… you! Our happy team of designers are always looking for new challenges, and our fully bespoke services always leave our couples (and their guests!) smiling.
Amongst the many strings to our bow are save the date cards, wedding invitations, festival-style lanyard programmes, VIP passes, festival wedding wristbands, seating plans, place cards, table centre cards, thank you cards, and everything in between. If you can imagine it, we can make it, and if you can't imagine it… don't worry, we can!
It's our absolute pleasure to be part of the magic of every wedding day we work on, and adding some alternative flavour for our brides and grooms is what sets us apart. If you're looking for awesome wedding stationery that suits your unconventional style then head to www.wedfest.co and let the fun begin. We'll see you at the altar!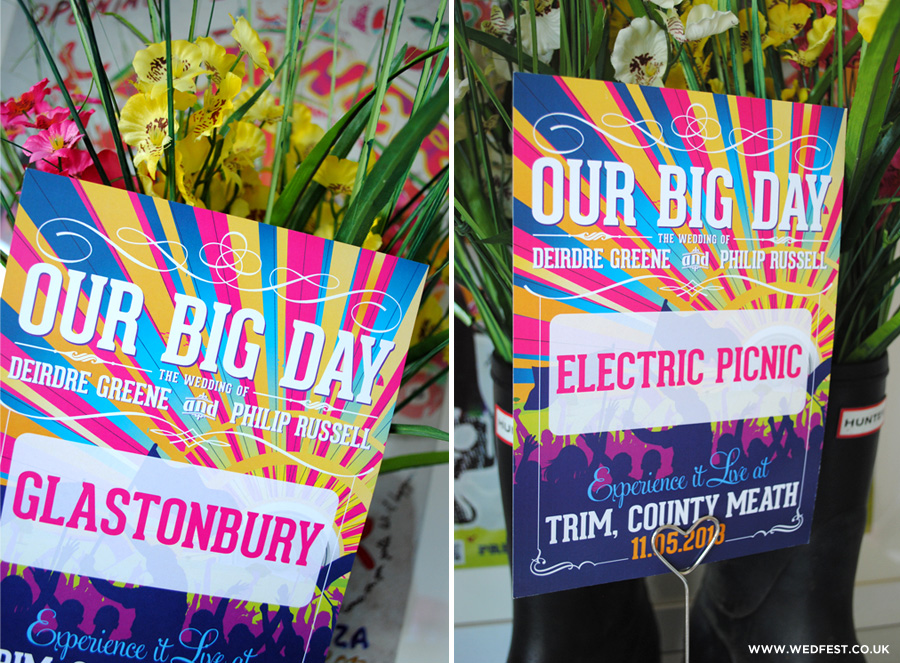 Why have Festival Themed Wedding Stationery for your wedding?
Festival theme wedding stationery and rock n roll wedding stationery is very popular nowadays, and Its not surprising! A majority of people who are getting married are at an age where music festivals have been their whole life up to now, and now it is their turn to throw a massive party and invite all their guests to come and party the way they choose! So its easy to see why people would combine their wedding with a festival theme, both are great celebrations and coming together of people, and not just 2 people but 100's of people!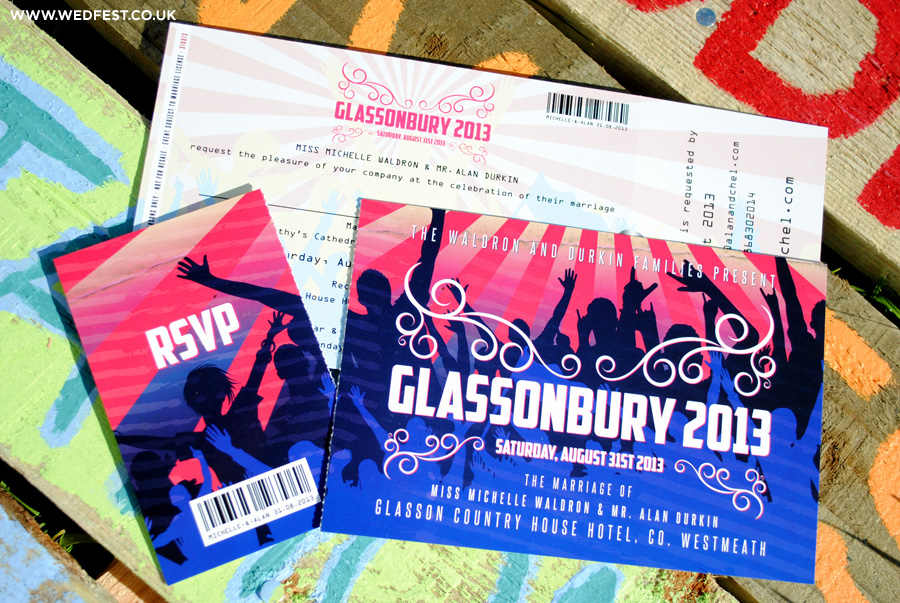 Weddings and festivals have so much in common its unreal, people plan for months to attend both, people take off work to attend both, people get certain outfits organised for both, both have various means of accommodation  you go to both to see your favourite people, you dance all night at both, you can meet people at both, you could meet your future husband or wife at both, you can get drunk at both, you can make an idiot of yourself at both, you can take away amazing lifetime memories from both, you will talk about both for a long time, you will look forward to the next one… the list is endless!! which is exactly why people want to use their wedding day to reflect their love of festivals, music and people! There is a wonderful sense of community and fun at festivals, and this often brings people together, allowing them to lose inhibitions. At festivals, you are able to meet people who live half a world away – and maybe this is what brought the two of you together, and created the spark in your relationship!
Taking inspiration from music festivals for your wedding stationery is a great idea and a great source of inspiration if you and your significant other love music.
Question 1:
Do you go to concerts more than you go out to dinner?
Question 2:
Do you own more records than you own clothes?
Question 3:
Are you more worried about your wedding's setlist than its guest list?
If so, then music festivals are probably a wonderful source of inspiration for your celebration!
Look you have already made up your mind thats why you are here so stop thinking about it and click here to get in touch!!
Peace!