Tipi Themed Festival Wedding Invites – Tipis also known as Teepees have become a huge part of weddings and in particular festival weddings over the past few years. More and more couples are deciding against hotel weddings and instead hosting their own weddings in the countryside, in their gardens, in a field or where ever, and many of them are using Tipis, Teepees, Yurts, Marquee's, Big Top Tents and other such structures to have their weddings in, as well as having boutique camping and honeymoon yurts etc. for the night time activities. And why not, they look absolutely amazing and really bring that festival feel to a wedding. Most festivals you will have ever been to you are bound to have been at least 2 or 3 big tents or teepee type structures watching bands or acts, or even just sheltering from the rain. There is no doubt about it tipi weddings are hot right now, and from the photos of weddings that have used a tipi they look awesome.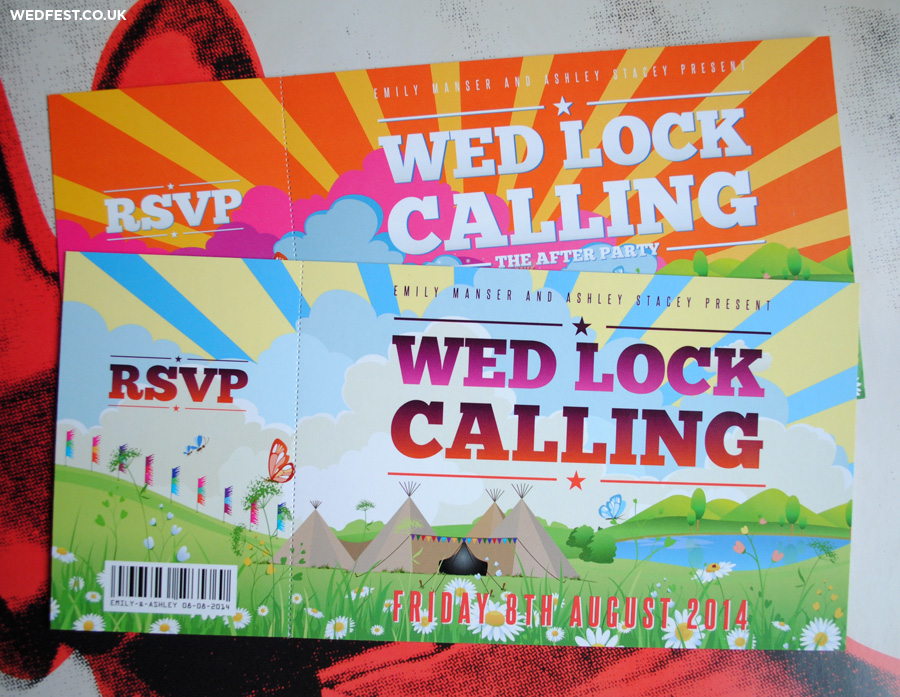 So lately I have had quite a few enquiries from couples who themselves are getting married in a Tipi or are having their wedding reception in one. This particular couple wanted to reflect this exactly in their wedding invitations. This was great news for me as I had been working on some wedding tipi stationery ideas and wanted to put it into practice. I had previously designed a similar styled country side based whimsical wedding invitation so I knew this same design work perfect with a wedding tipi theme.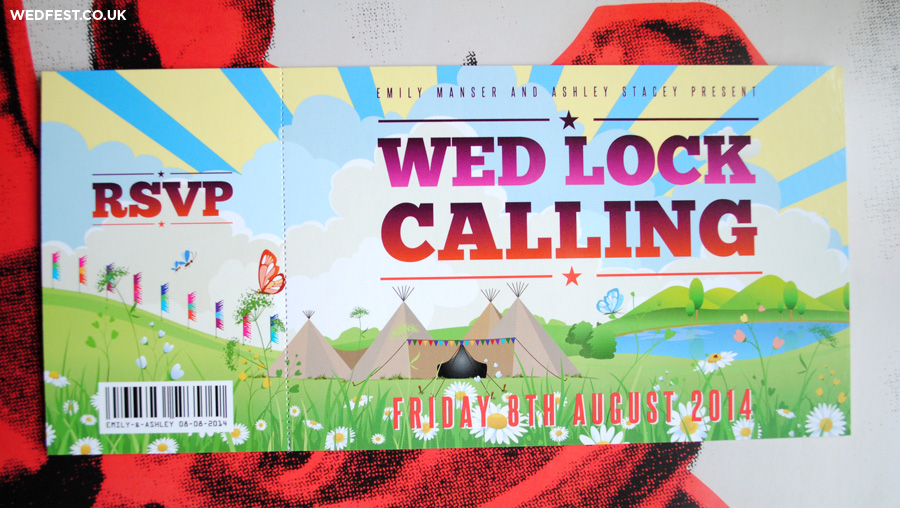 The bride to be explained to me that the wedding was going to be a festival vibe in the countryside with flags and other festival things with the teepee being the center point of the whole event. She also mentioned that it was going to be beside a lake so if I could somehow work that into the invitation design also that would be great! of course I did and you can check out the invitations in the photos.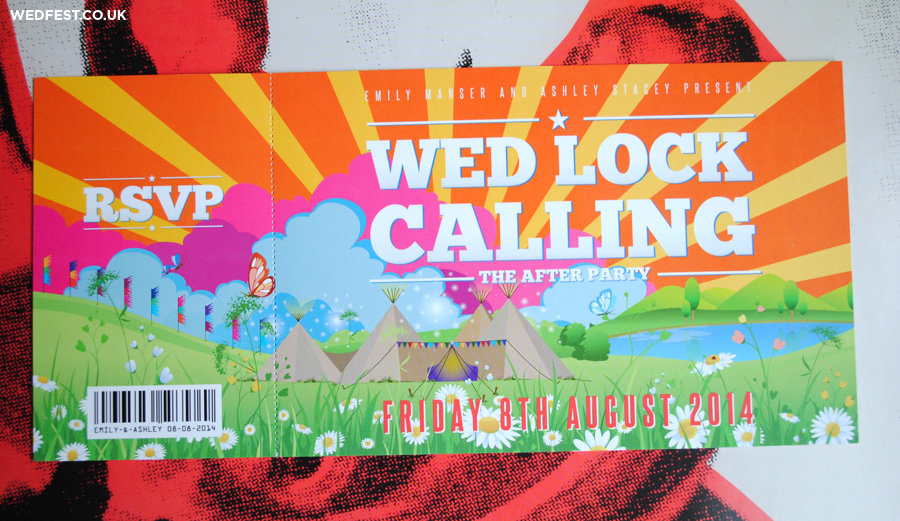 The designs turned our really well. I didn't use any imagery of crowds or bands playing as this invitation design was all about setting the tone of the day and the setting of the wedding. The couple were very pleased how the designs turned out as it was exactly what was in their minds.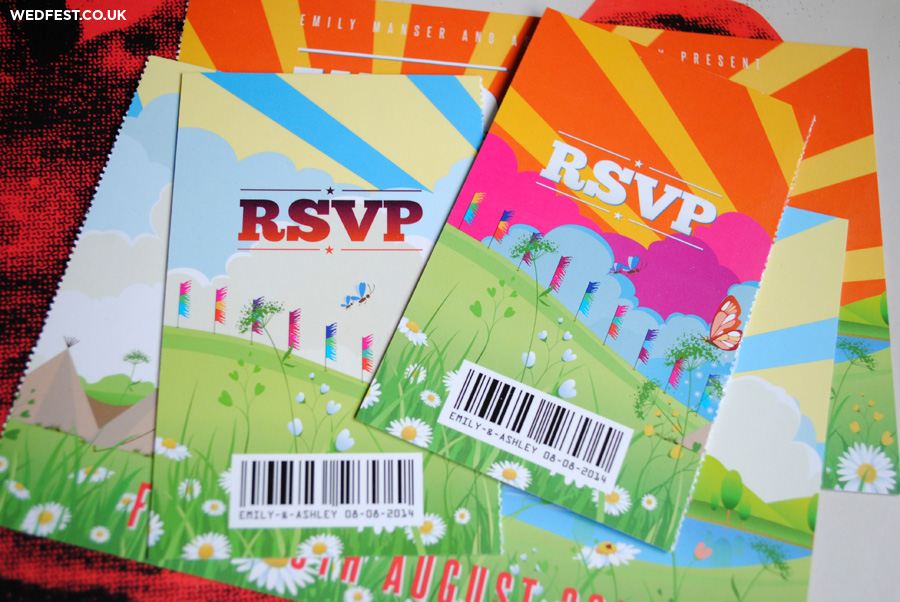 The couple are fans of the music festival HARD ROCK CALLING so they wanted to name their wedding day WED LOCK CALLING. This worked really well in the design and I slightly based the logo on the logo of hard rock calling.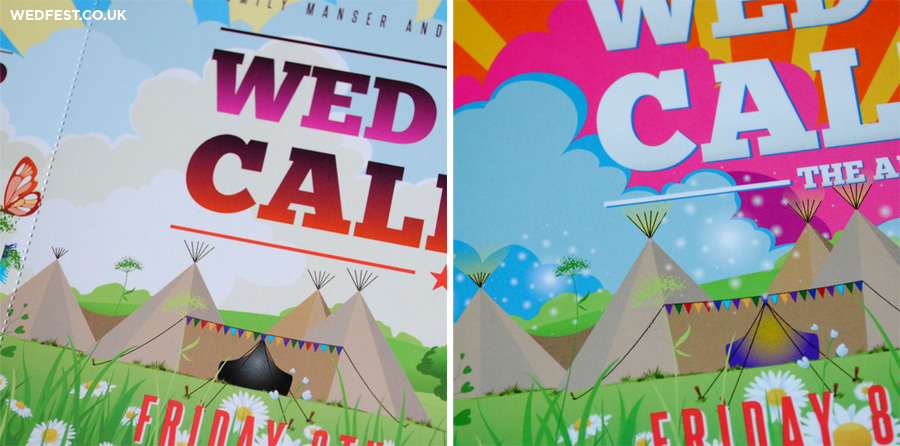 For the evening invitations I changed the colour of the wedding invites to give more of an early evening type of vibe with the orange sky and pink clouds and around the tipi itself I added some fairy dust and the idea of fireflies. All in all these wedding invites turned out awesome and I am really happy with them.
If you are having a tipi wedding or having a teepee feature anywhere in your wedding day and like the look of these Tipi Themed Festival Wedding Invites or any of the wedding stationery on this website please click here to get in touch.
Comments
comments