Skulls and Roses Rock n' Roll Wedding Invites – I really love designing for Rockers Weddings and this next set of wedding invitations was no different. The couple had seen some of my earlier rock n' roll wedding invite designs and got in touch with me so I could also design theirs. They had a simple brief really, they wanted their wedding invitations they to look like a rock festival ticket and they wanted to use Skulls and Roses in the imagery, and black, red and silver as the colours. Hi Ho Hi Ho, it's off to design rock n' roll wedding invites with skulls I go! 🙂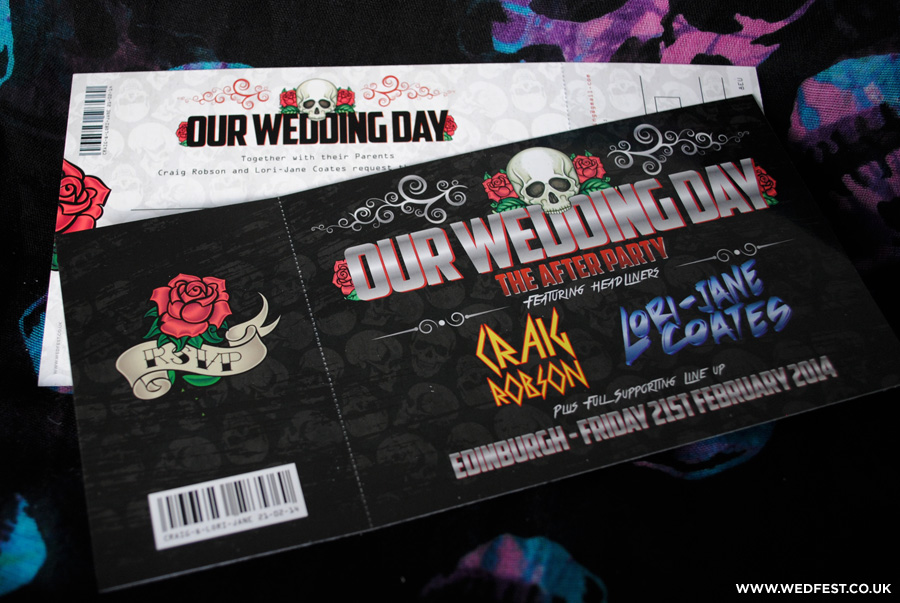 I had two initial thoughts after I chatted to the couple. I was thinking of tattoos that had roses and skulls in them and in particular vintage rockabilly rose tattoos. You quite often see roses and skulls together especially in tattoos so I wanted to work this into the wedding invitation design. My second thought was I wanted to use lots and lots of skulls!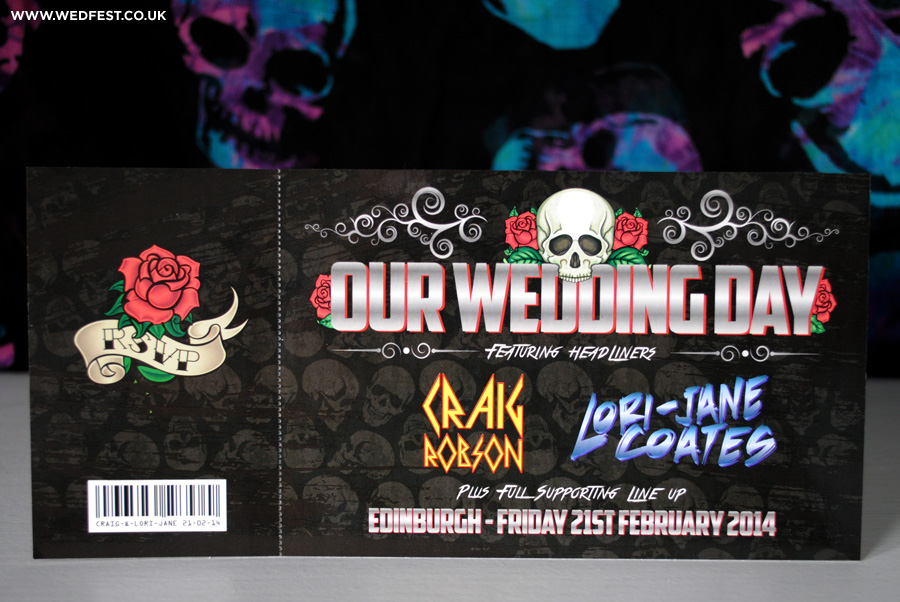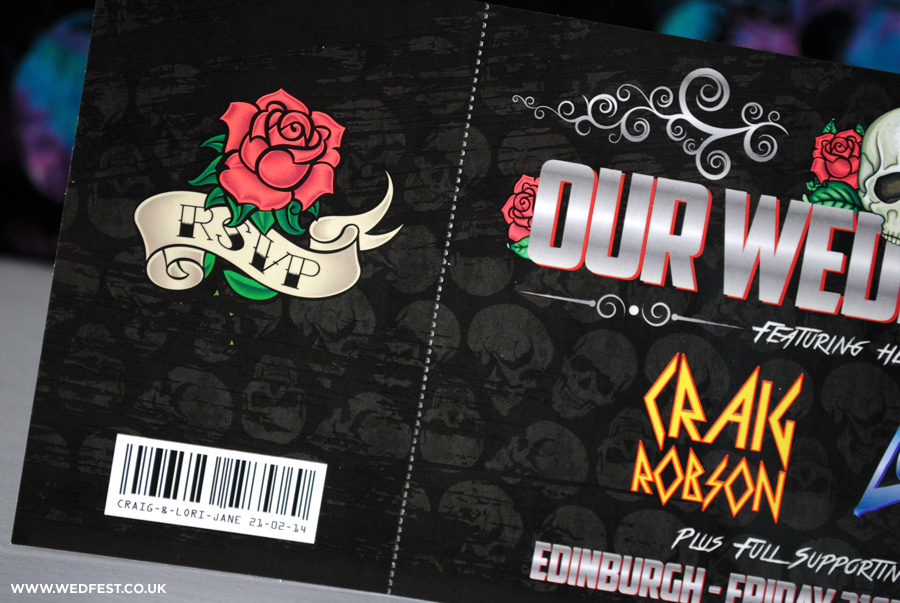 After my initial research I set about designing these Skulls and Roses Rock n' Roll Wedding Invites, with vintage tattoos and rock festival designs in mind. The main part of the design was going to be the headline title. The couple decided they wanted the title to simply read – OUR WEDDING DAY. I wanted this to have maximum impact and used a very big and strong and coloured it with a silver gradient and red drop shadow. It looked perfect against the black background. Speaking of the background I used a repeated pattern of skulls on both sides of the invite, inverted on the reverse side. I did say I wanted to use alot of skulls! The background worked perfectly and printed beautifully as you cans see in the photos.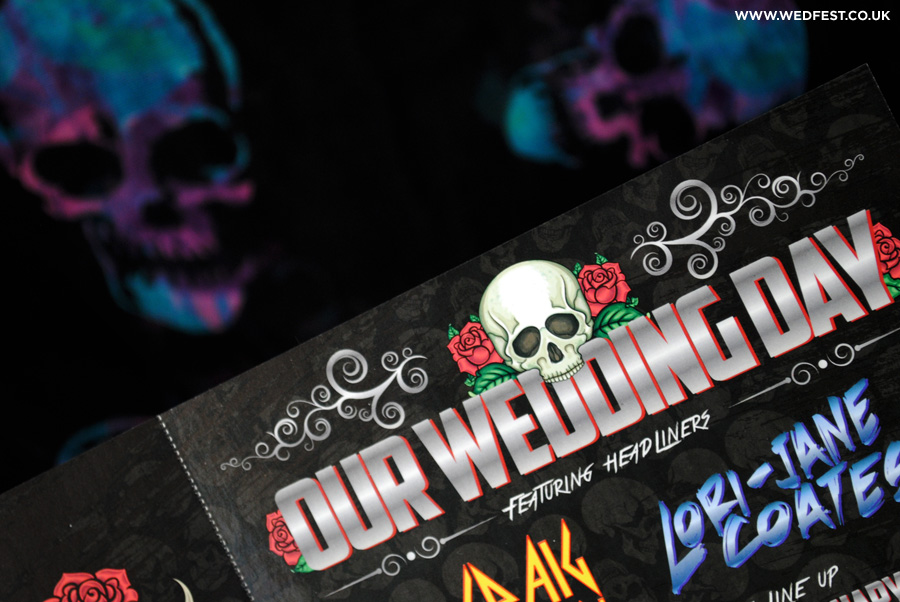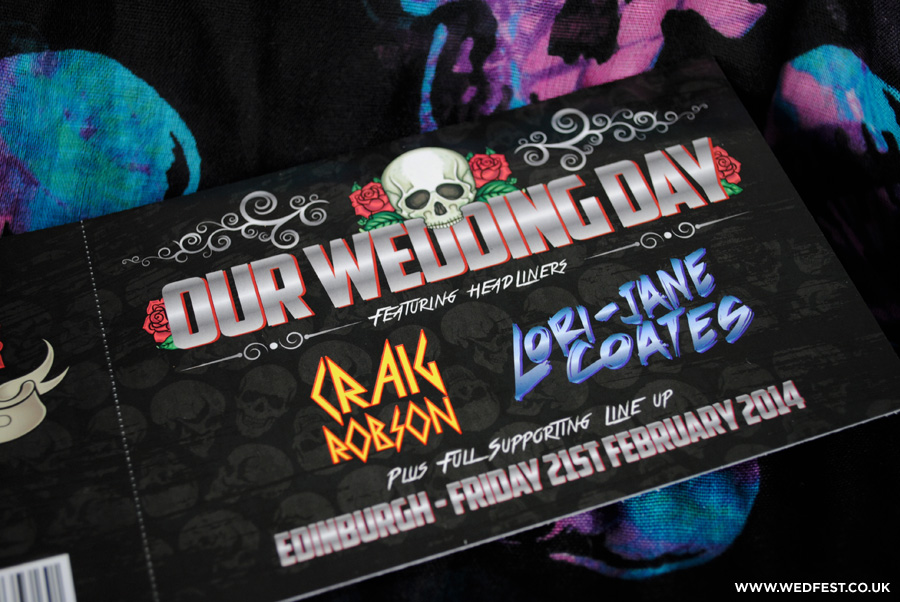 To finish of the logo I used a great image tattoo style image of a skull sitting above and in the middle of the OUR WEDDING DAY text. I have roses and leaves coming out of both sides of the skull and also at either of the OUR WEDDING DAY text. It looks the dog's bollox if I do say so myself!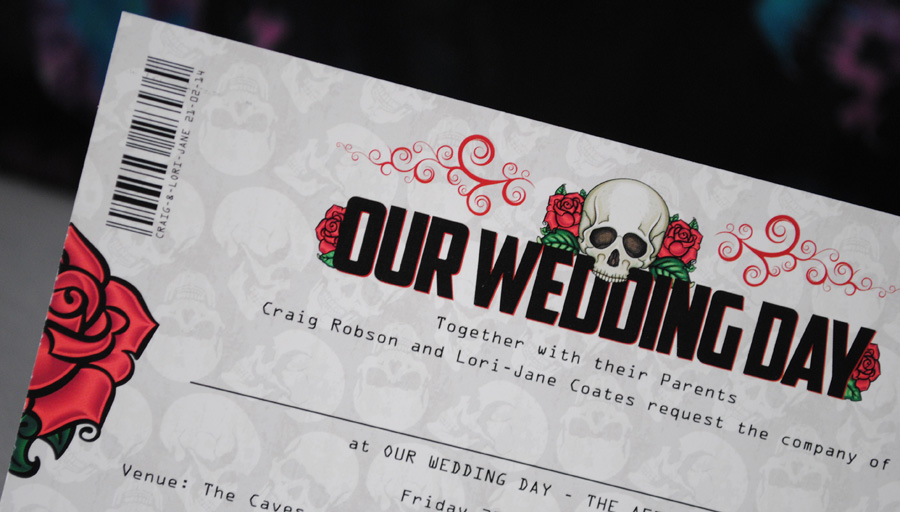 For the names of the bride and groom they wanted their names to look like headline acts on a festival poster so I designed them up like that. I can't remember off hand what I based on Lori's on but Craig wanted his logo design based on the Def Leppard logo, and thats what he got!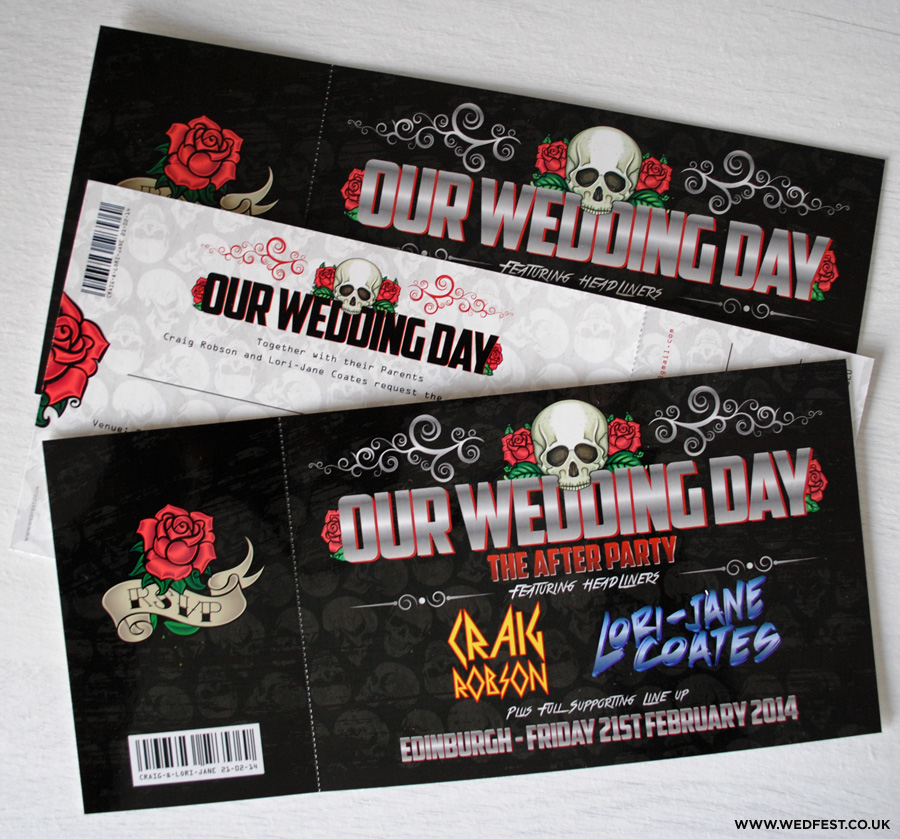 For the RSVP stub I really wanted to feature the vintage rose tattoo idea I had earlier and this was perfect for it. I simply had a tattoo style image of a rose with a banner going through the design with a tattoo style font spelling out the letters RSVP, much in the same way vintage tattoos would say MUM or whatever back in the day!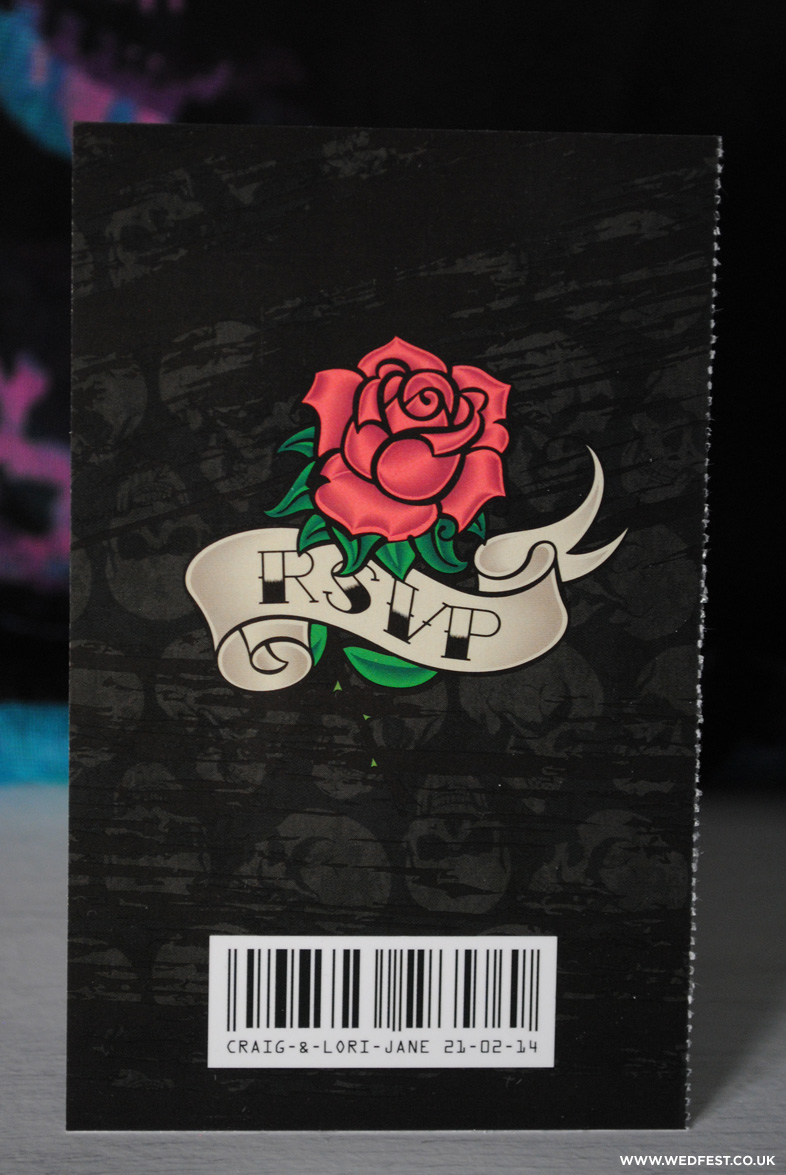 The wedding invitation design turned out really well and I am really pleased with it. The design works really well for a rock wedding theme but also rock n roll weddings, tattoo themed wedding stationery or tattoo themed wedding stationery, it could be applied to all.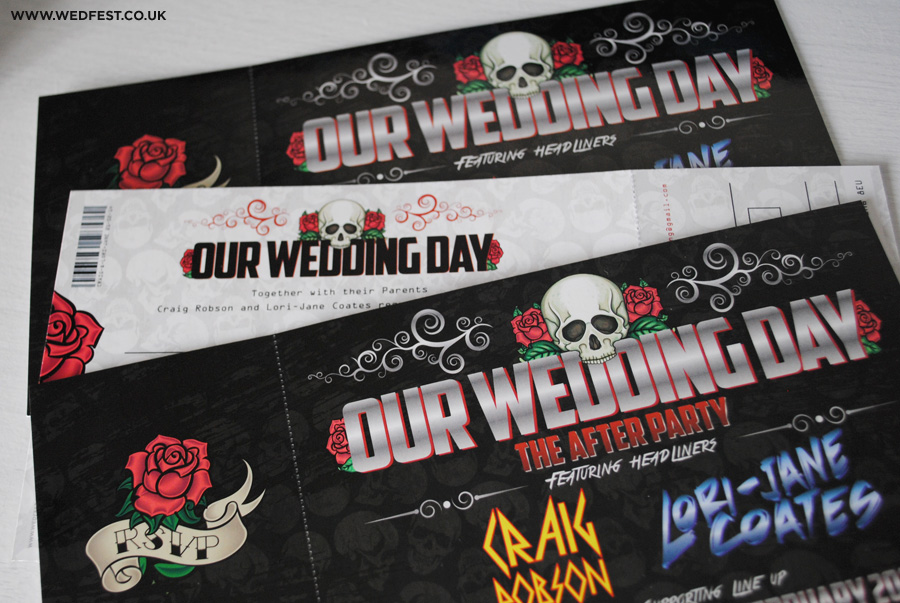 If you are having a rock n roll wedding or a rock wedding theme and are interested on some rock n roll wedding invites or wedding stationery please click here to get in touch.
Comments
comments