Rockabilly Themed Wedding Stationery – I have been looking forward to this post for a while. We are covering two things here. The first is the awesome Rockabilly Themed Wedding Stationery we have been working on at WEDFEST and the second is amazing Wedding Decoration and Styling by Belfast Wedding Decoration company Weddings at Tiffany's.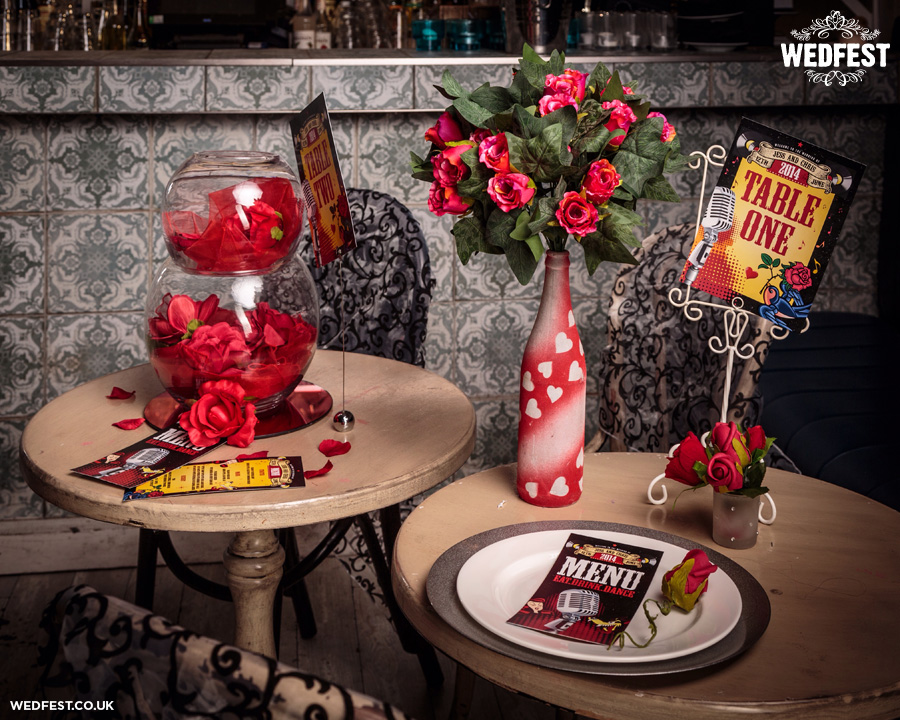 It's hard to know where to start with these photographs as they are all so fantastic and show off our wedding stationery so well, so lets talk about the Lady who organised it to start with – Ciara Scullion from Weddings at Tiffany's.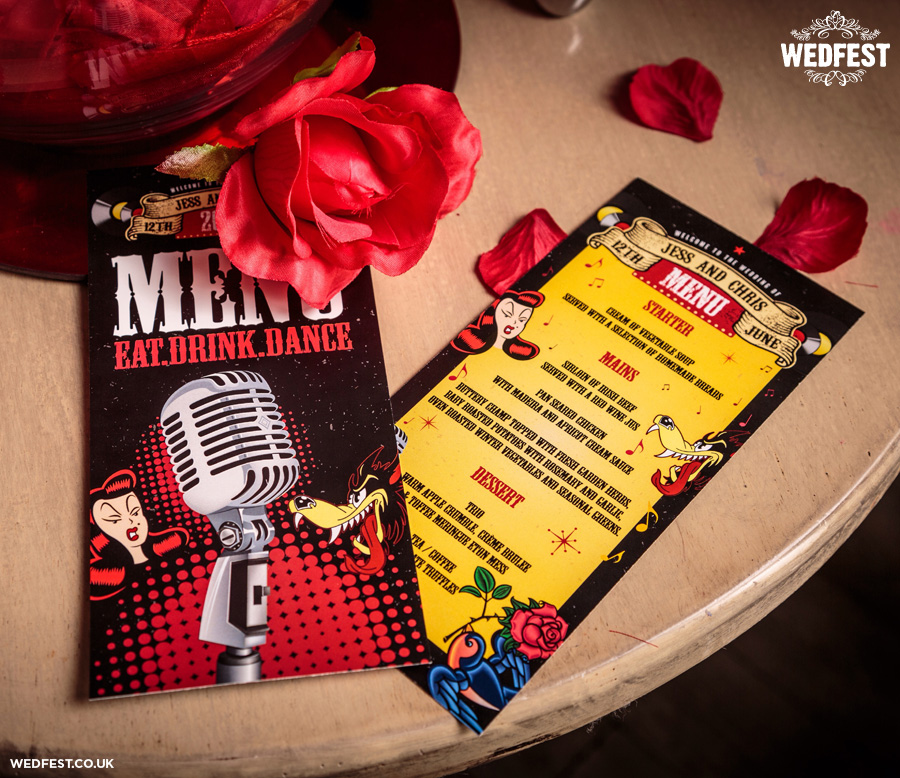 I first met Ciara a few weeks ago when we had stands next to each other at a wedding fair in Belfast. Ciara or Weddings at Tiffany's were exhibiting their wedding decoration services which include everything from Wedding Table Decoration, Wedding Displays, Wedding Backdrops, chair covers, chair tie-backs, centre pieces and much, much more. But when we got talking I realised that Ciara also styles and organises your whole wedding including organising your wedding cakes, photographers, make up artists, stylists, whatever you need just ask. She also specialises in styling themed weddings which is were we had a common ground and what brings us to this amazing Rockabilly themed wedding shoot.
Weddings at Tiffany's much like us at WEDFEST work brilliantly with themed weddings. Ciara told us that she was working on a rockabilly themed wedding shoot and it just so happened that we were working on some amazing rockabilly themed wedding stationery so WEDFEST provided weddings at Tiffany's with some rockabilly fifties inspired wedding stationery and the result was amazing!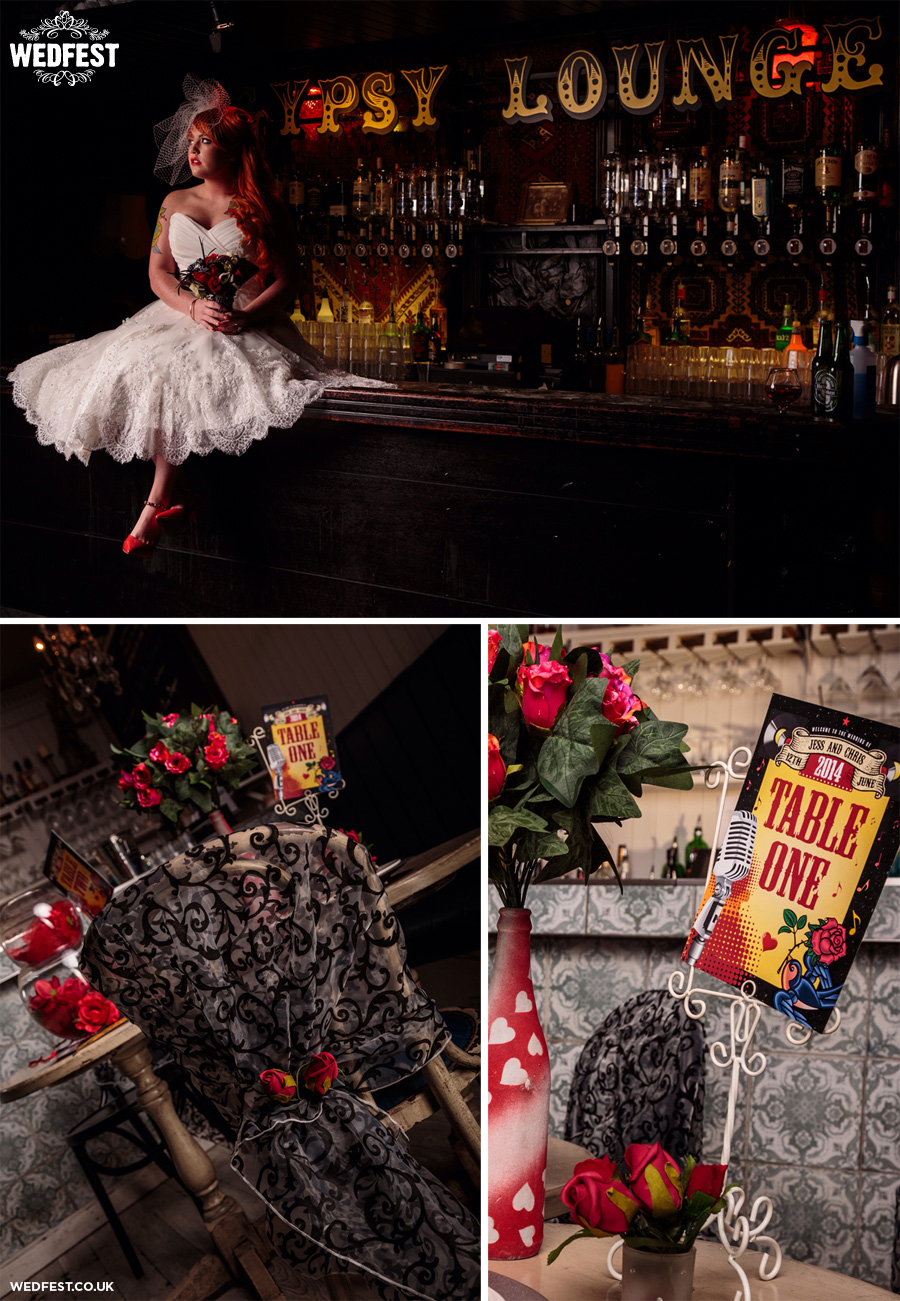 Wedding's at Tiffany's styled this whole photo shoot in preparation for an upcoming wedding they are working on. Everything from the chair covers, table decorations, flowers, make up, wedding dress, photographer and venue was organised by Weddings at Tiffany's, and that is what they can do for your big day! We supplied the rockabilly themed wedding menus and wedding table cards to finish off the already amazing work. The photo shoot took place at Filthy McNasty's, Gypsy Lounge in Belfast which is a really cool venue if you are looking for something a bit different for your wedding reception go check it out! Or go check it out anyway as it is one of the best bar/nightclub/venues in Belfast.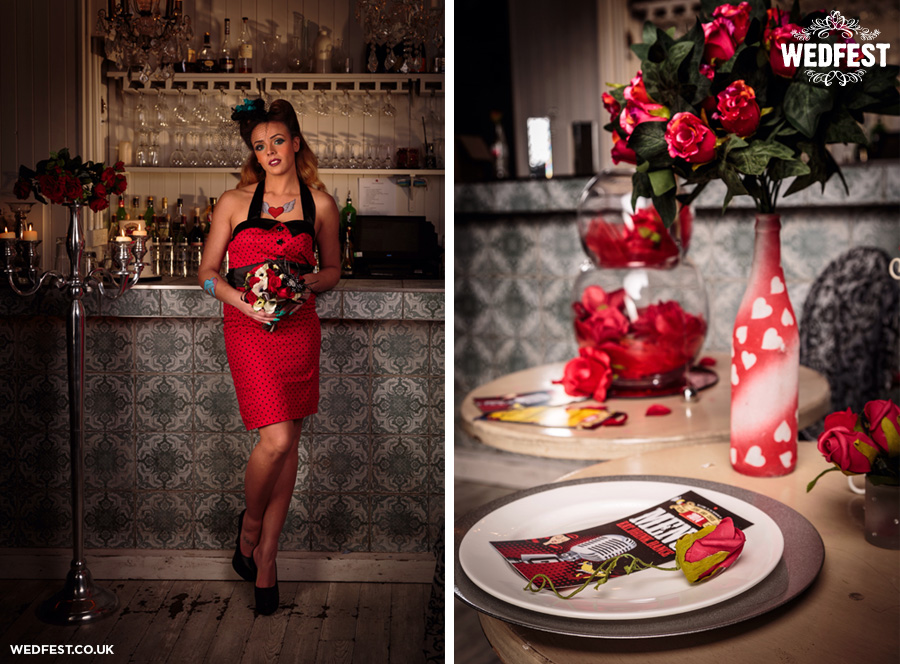 We also supplied some Rockabilly Wedding Invitations which you can see in the photos below being modelled fantastically by the Rock and Roll Bride and Groom, and you can also see them in more detail in the wedding invitations section of the website.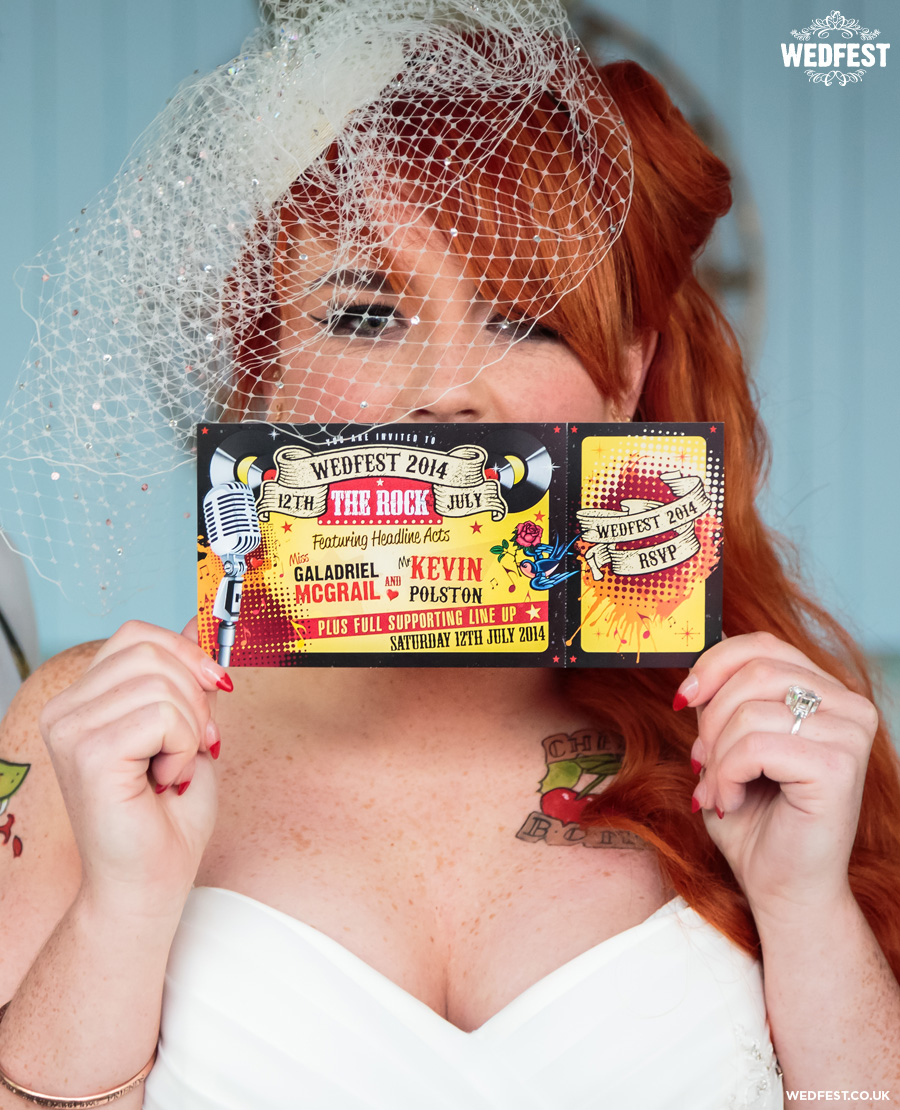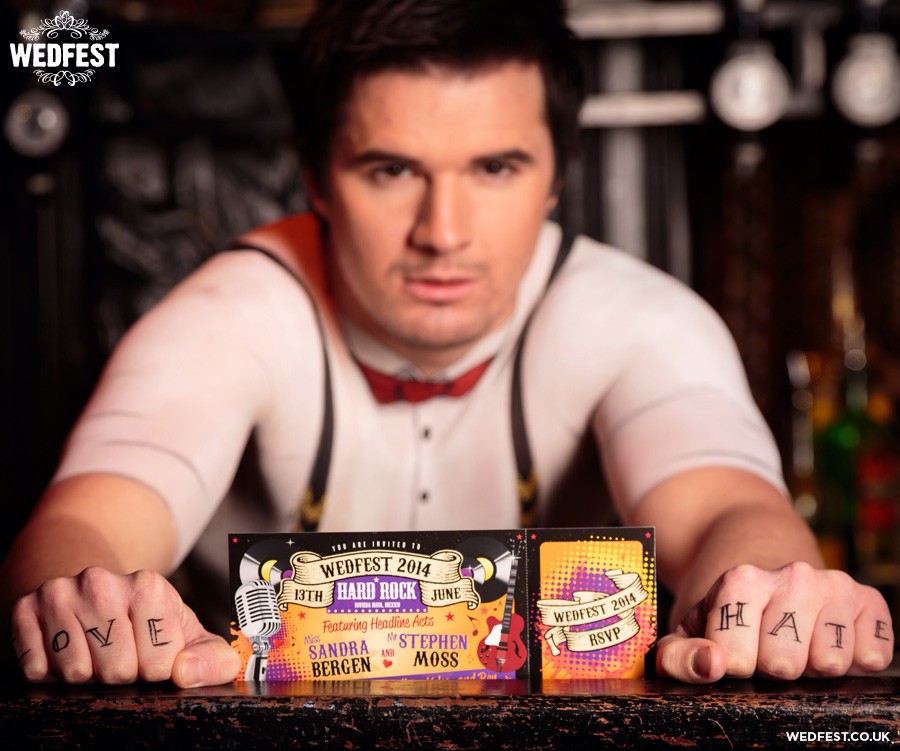 Wedfest can supply all the wedding stationery you need for your big day, from save the dates and wedding invites to wedding day stationery such as wedding menus, wedding table plans, wedding table centre cards and anything else you might need.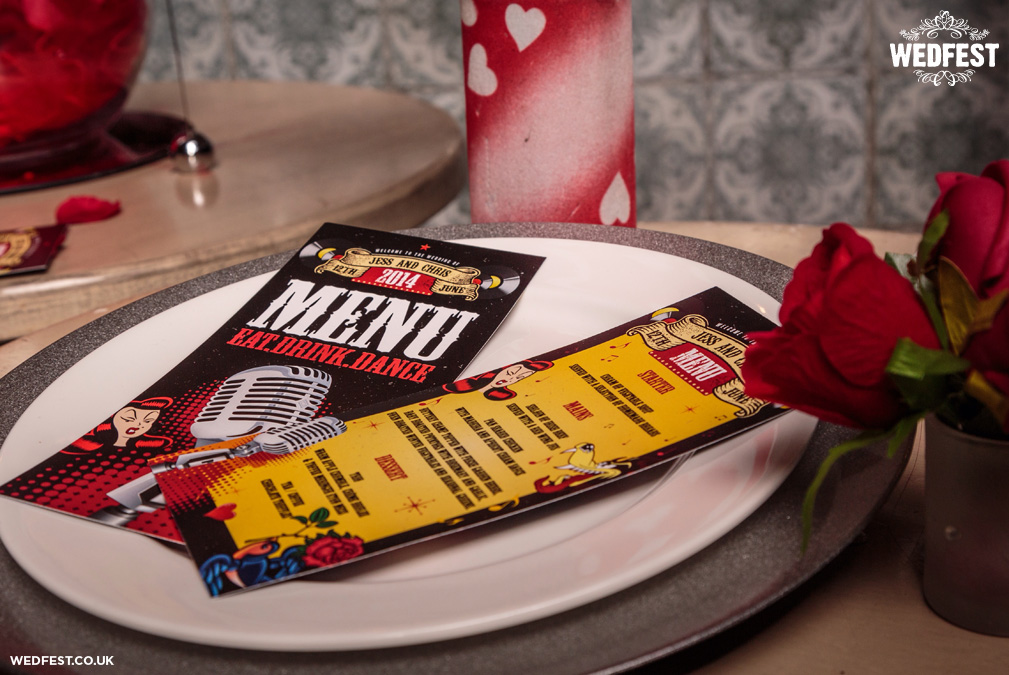 The stationery featured in this wedding shoot was heavily influenced by fifties and rockabilly styling using images such as retro guitars, pin-up girls, retro microphones, vintage style tattoo style hearts, roses and at the very end of the project I added a rockabilly wolf to the wedding menu which just finished everything beautifully. I really loved working on this wedding stationery and very pleased with the results.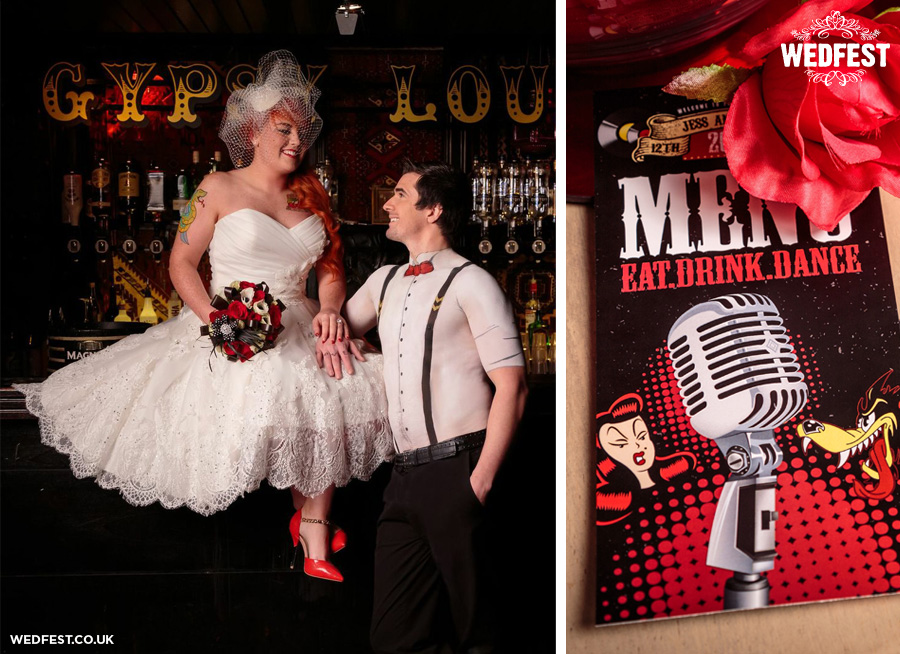 If you like what you see here and want more information on Wedding at Tiffany's wedding styling and decoration services contact Ciara Scullion at her website www.weddingsattiffanysni.com or visit the facebook page www.facebook.com/weddingsbytiffanysni. Alternatively you can pop into their showroom which is based in Crumbs Cakes on Lisburn Road, Belfast. Go check them out they have alot, lot more than this to show you 🙂
If you love this wedding stationery and want more information on this or any of the wedding stationery provided by WEDFEST please click here to get in touch and lets add some rock and roll to your wedding!
Comments
comments