Music Themed Wedding Seating Plan – Philippa and Vern got in touch a few weeks back looking for a Music Themed Wedding Seating Plan for their wedding reception. They wanted a poster which had a vintage/retro feel to it and looked almost like a retro concert poster. Their wedding colours were purple and gold and their one other request was that I somehow worked in either a peacock or a peacock feather as this was Vernon's surname so it would be a nod to the couples married surname. Of course if you follow this website regularly you will know that nothing shocks me and the inclusion of a peacock feather is simply another day at the office!! haha! The peacock feather actually worked into this poster design beautifully and just added to the quirky retro rock'n'roll feel to the table plan poster design.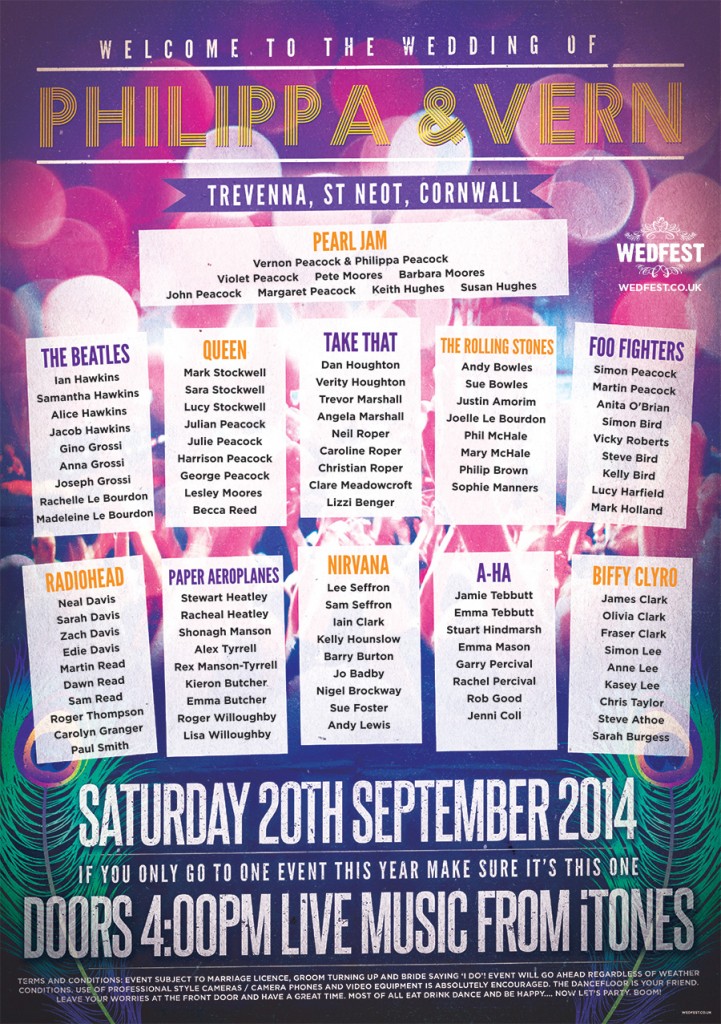 The table plan featured a concert image in the background and the couples names at the top in a large gold retro typeface. The wedding tables are all named after the couples favourite bands such as Pearl Jam, The Beatles, Queen, Radiohead etc. At the bottom of the seating plan poster there is further details of the day including the name of the band that are playing and a funny tongue in cheek terms and conditions which can be usually found at the bottom of concert posters.
If you like the look of this Music Themed Wedding Seating Plan and want more information on our wedding table plans or any of the music themed wedding stationery we provide please click here to get in touch.
Comments
comments