Festival Weddings Table and Seating Plans – I recently posted on a previous post that even though I had created many festival themed wedding table plans I realised I wasn't posting up as many on the site as I should be, so here is another set of wedding table plans that I have worked on over the past few months.
This first one for a couple from Sligo in Ireland who had an album cover themed wedding table plan. Each of the tables was named after a favourite album of theirs and the album covers where used in the table plan to indicate who was sitting where. They were having a purple colour theme throughout their wedding and also having a VW Campervan as part of their day so I included both of these elements to add to the festival theme of the wedding.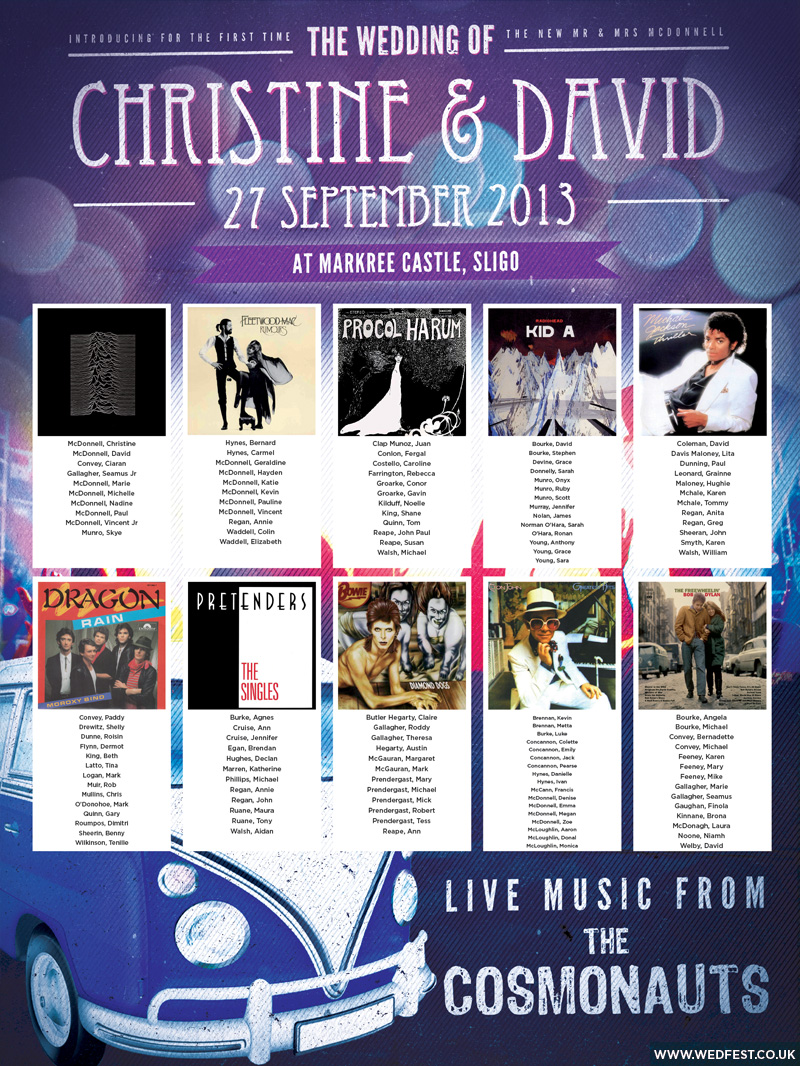 In an earlier post I showcased the festival themed flyer wedding invites that I had designed for Deirdre and Philip from County Meath, Ireland who named their wedding day as OUR BIG DAY. I was really happy with how their invitations turned out as the colours were really vibrant and gave of a great festival vibe. I was delighted to then design their wedding seating plan based on the same theme. These guys named each of their tables after popular music festivals with the tope table being named after Electric Picnic which is their favourite festival and also Irelands number one music Festival – in my opinion! I am not being paid to say that 😉 Check out their supercool wedding table plan below…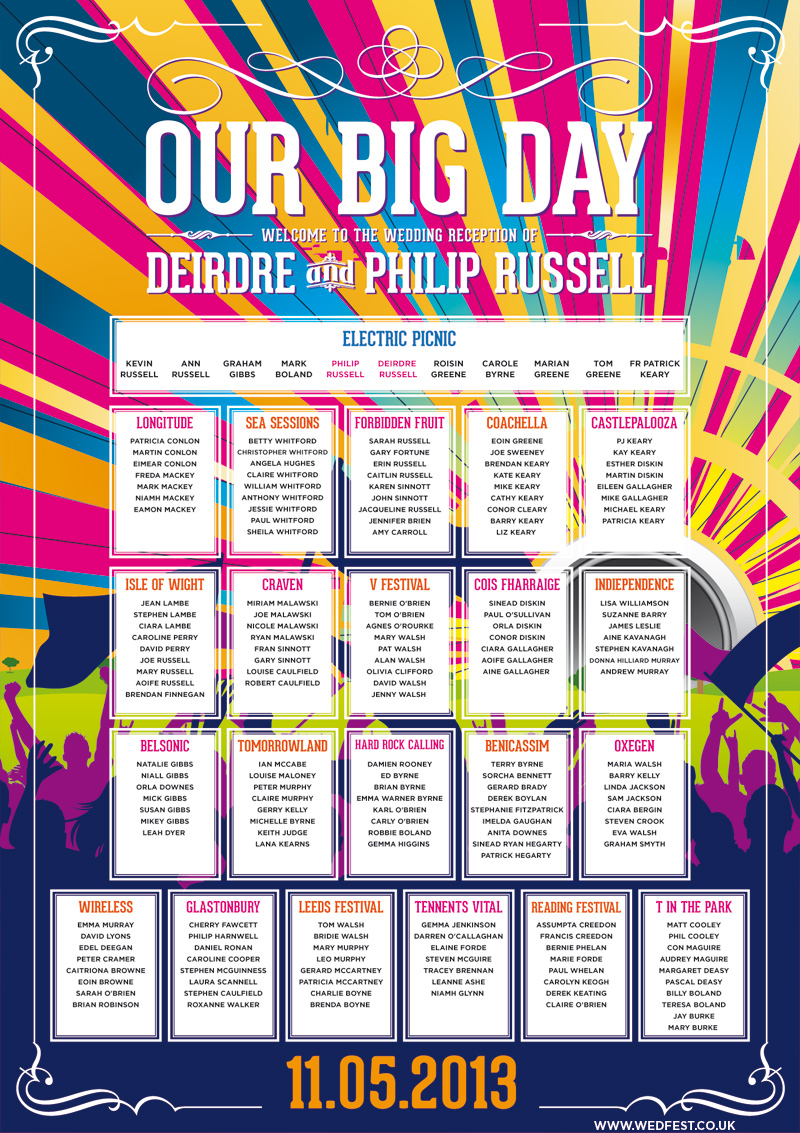 This is another WEDFEST 2013 themed wedding table plan that I had worked on way back in May for a couple from Lancashire, England. Again I followed the design for this seating plan directly from the wedding invites that I had earlier designed for the couple. Again the tables where named after the couples favourite music festivals. This one looked brilliant when printed large scale (as they all do!!)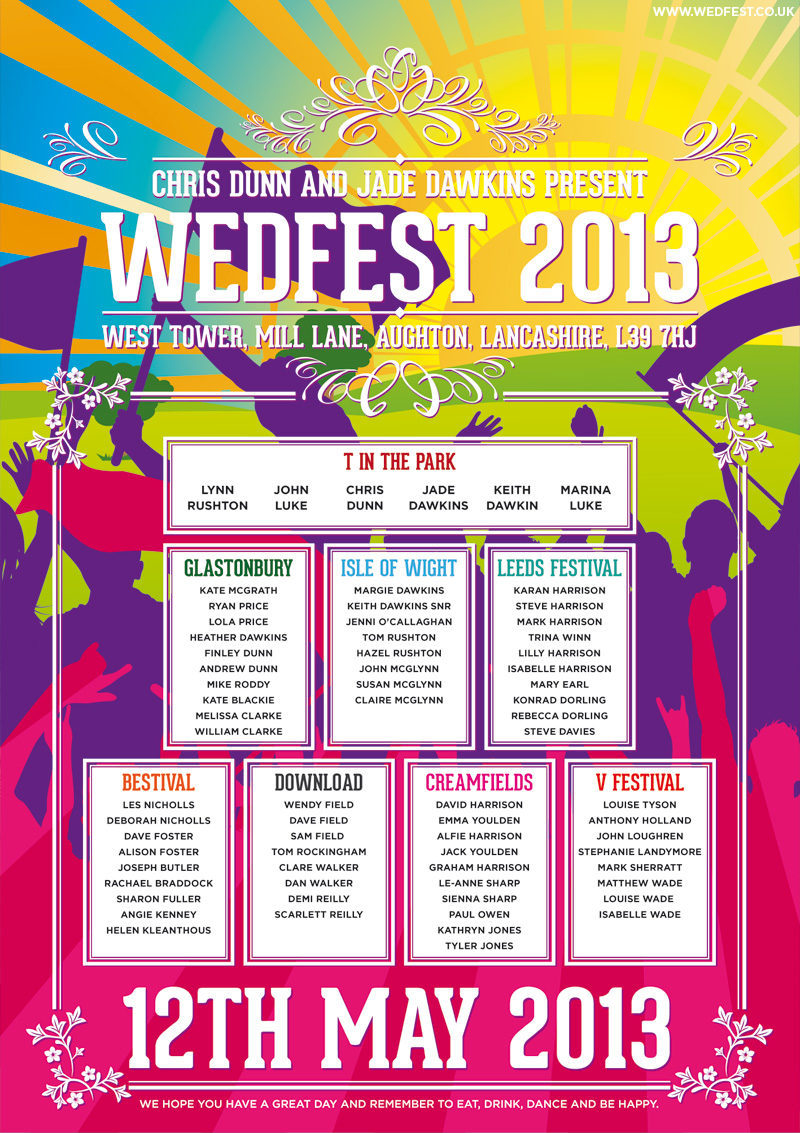 This next one goes way back to last year and one of the first festival themed weddings I had worked on. The couple called Brian and Kelly had asked me to design their wedding invitations in the theme of WINTER WEDFEST. Originally it was SUMMER WEDFEST but they had to move the wedding back to december so we cleverly just renamed it winter wedfest instead. I loved working on this winter themed wedding stationery for these guys and love the christmas elements of snowflakes and stars and sparkles which I added throughout their wedding stationery! seems like I only worked on this yesterday even though its nearly a year ago!!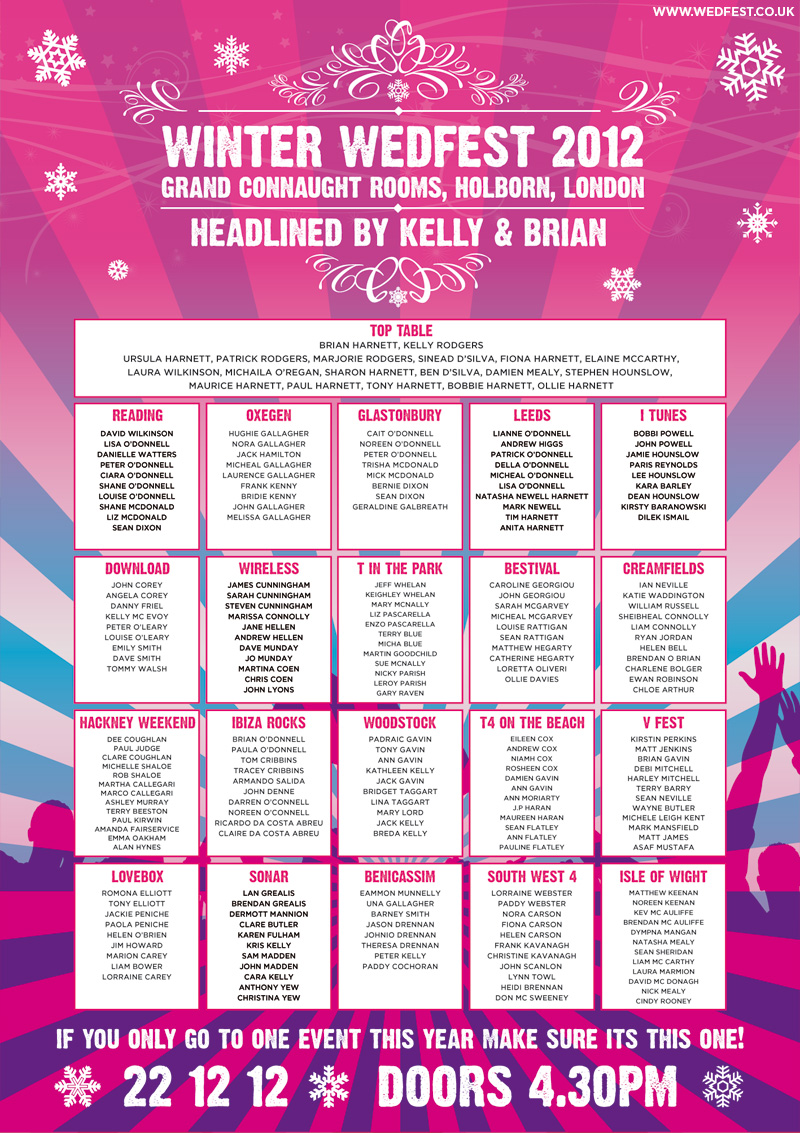 This concert poster style wedding table plan below was for a couple from Buckinghamshire who named their wedding TIE THE KNOT, I had previously designed their wedding invites and to go alongside this I also provided them with festival themed wedding menus to match which you can see by clicking on this link – festival wedding menus.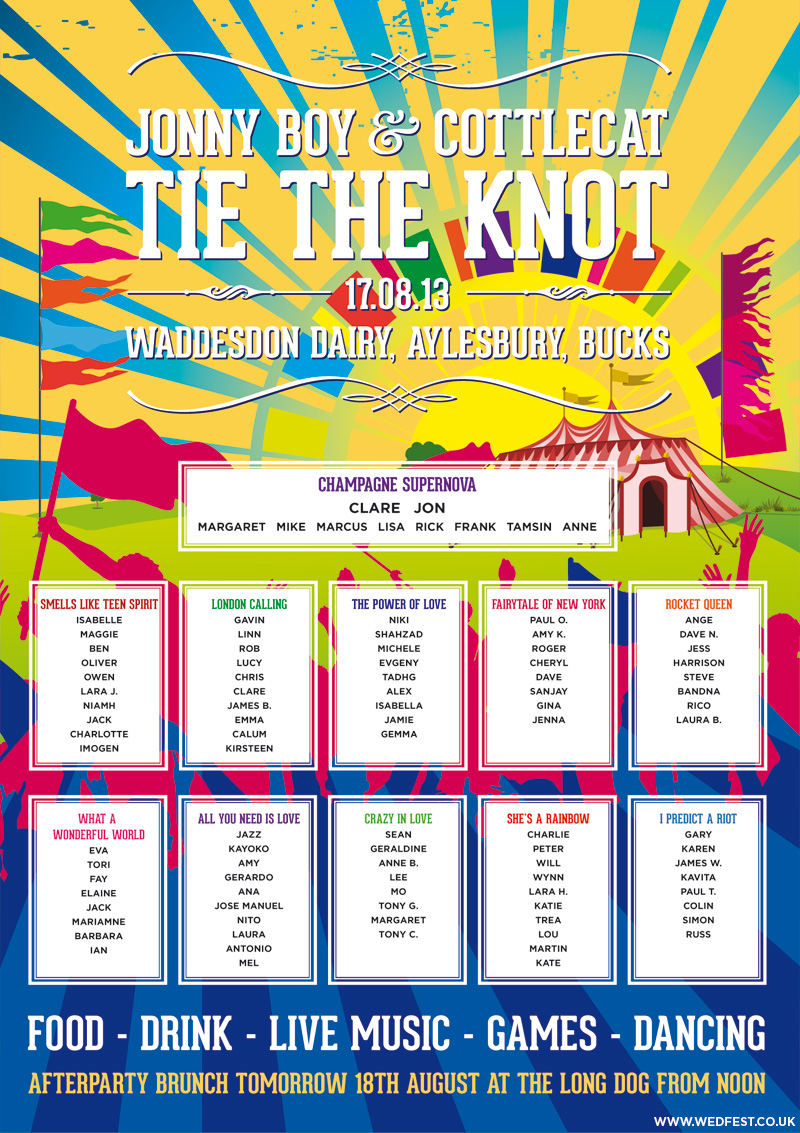 This couple from Scotland who got married at Glencorse House and Old Kirk in Edinburgh used their favourite band and artist names for their wedding table names…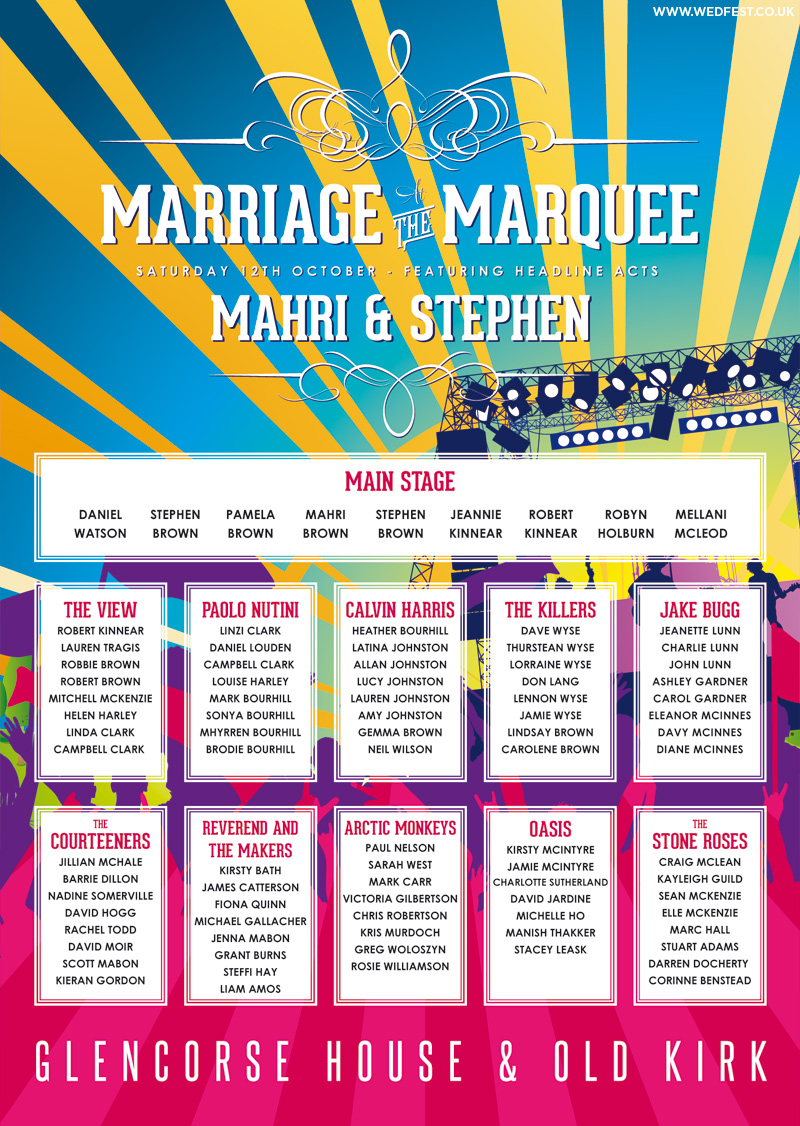 This final table plan for now is another glastonbury themed wedding table plan I designed for a couple from Leamington Spa who loved Glastonbury and wanted to theme their wedding around it in some way… and no better way than at the reception with the table plan and table cards. They named each of the wedding tables after the various stages and areas of glastonbury like the Pyramid Stage, The Tor, Shangri-La etc. etc. A beautiful table plan and again looked amazing when printed as the colours really jumped of the print.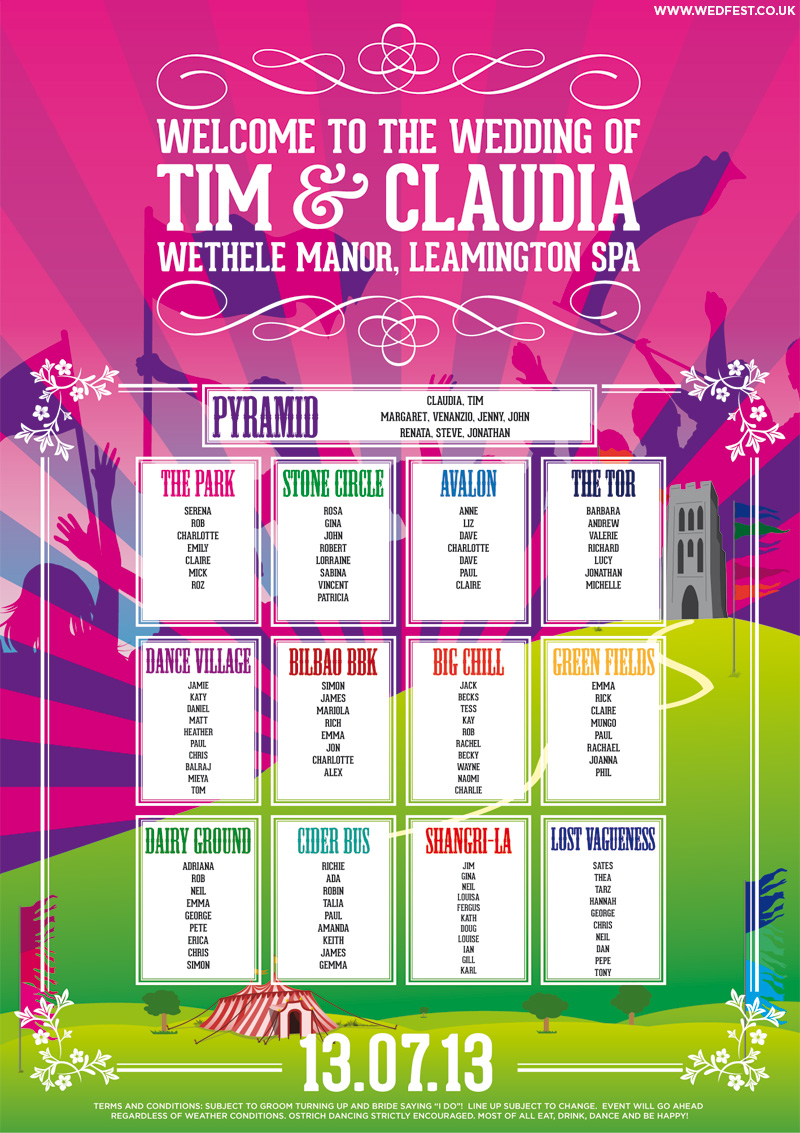 If you are having a festival wedding or any type of themed wedding and want a wedding table plan or wedding stationery to reflect your theme then please click here to get in touch and see what I can do for you… and I do mean any theme… just for good measure see below a ski themed wedding table plan just to give you an idea… its more than just music and festivals.. whatever you need…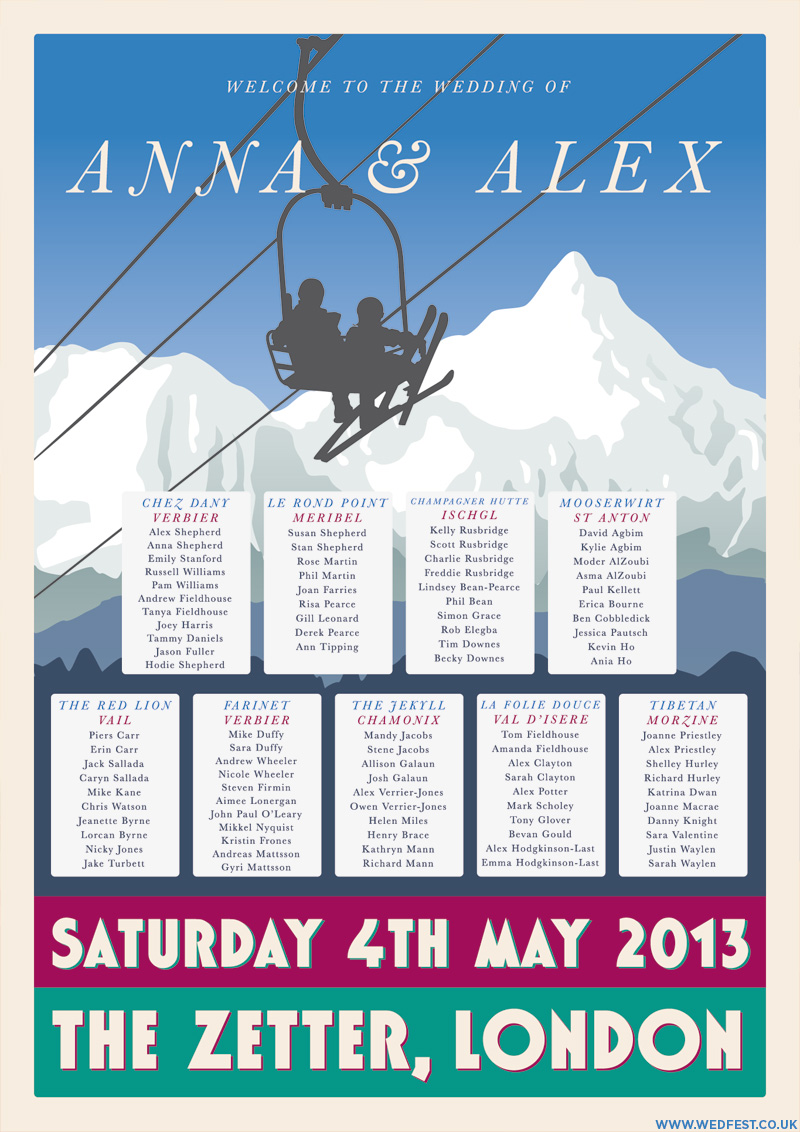 Comments
comments