Bonse & Jo's Reading & Leeds Festival Themed Wedding
It's been a crazy busy summer at Wedfest HQ. We have worked on hundreds of weddings and the crazy summer season is almost over. Likewise festival season is drawing to a close but not before some of the biggest festivals of the summer take place. This weekend just gone by seen probably one of the biggest and most popular festivals take place, that being Reading & Leeds Festival. These festivals are institutions and many of our customers regularly attend Reading Festival or Leeds Festival each year. In fact for a lot of couples these festivals mean more than most, as it is where they met each other. This is a very common theme among our customers. Another common one is when couples go to festivals for their honeymoon or mini moon after their wedding and this is exactly the case with the couple featured in this post – Bonse & Jo.
Like all of you who end up at this website Bonse and Jo love all things music festivals and live music and even had a Kasabian tribute band as their wedding band, as well having their wedding in The Castle Inn, Castle Donington which of course is near Donington Park where Download Festival takes place each year! It don't get much cooler than that!! Well maybe if they had the real Kasabian that would be cooler… but they actually got a wedding card from actual frontman Tom from Kasabian, and he actually signed one of their wedding invites also so we are  aiming high here!
Anyway Bonse & Jo got in touch with Wedfest after seeing our festival themed wedding stationery and wanted us to create them some festival themed wedding invitations and wedding stationery for their big day.
For their wedding invitations they wanted us to create Reading and Leeds themed festival ticket style wedding invitations. The wedding invites as you can see in the photos are super cool. Featuring a bold colour scheme of Red and Yellow with white they are a sure thing to get wedding guests excited for the big day… once they realise they have not been given free tickets to a music festival of course.
The invites were made in our signature festival ticket style which meant that the ticket stub / VIP ALL DAY pass acted as the RSVP card which the couple personalised with some fun references to their favourite band Kasabian.
For the day of their wedding they wanted to give their wedding guests some awesome festival themed wedding favours and their is literally nothing better than our range of custom festival wedding wristbands.
For the wristbands they wanted them designed in the same style as the invitations and followed the same bold yellow and red colour scheme.
As you can see in the photos the couple wore them all day at the wedding along side our range of The Bride & The Groom Wedding wristbands.
For the wedding reception the couple wanted an awesome wedding seating plan for their guests to find their dining tables. We created the couple one of our reading and leeds festival style wedding table plans, featuring the couples favourite bands as the table names, and matching vinyl record wedding table names to identify each of the wedding tables.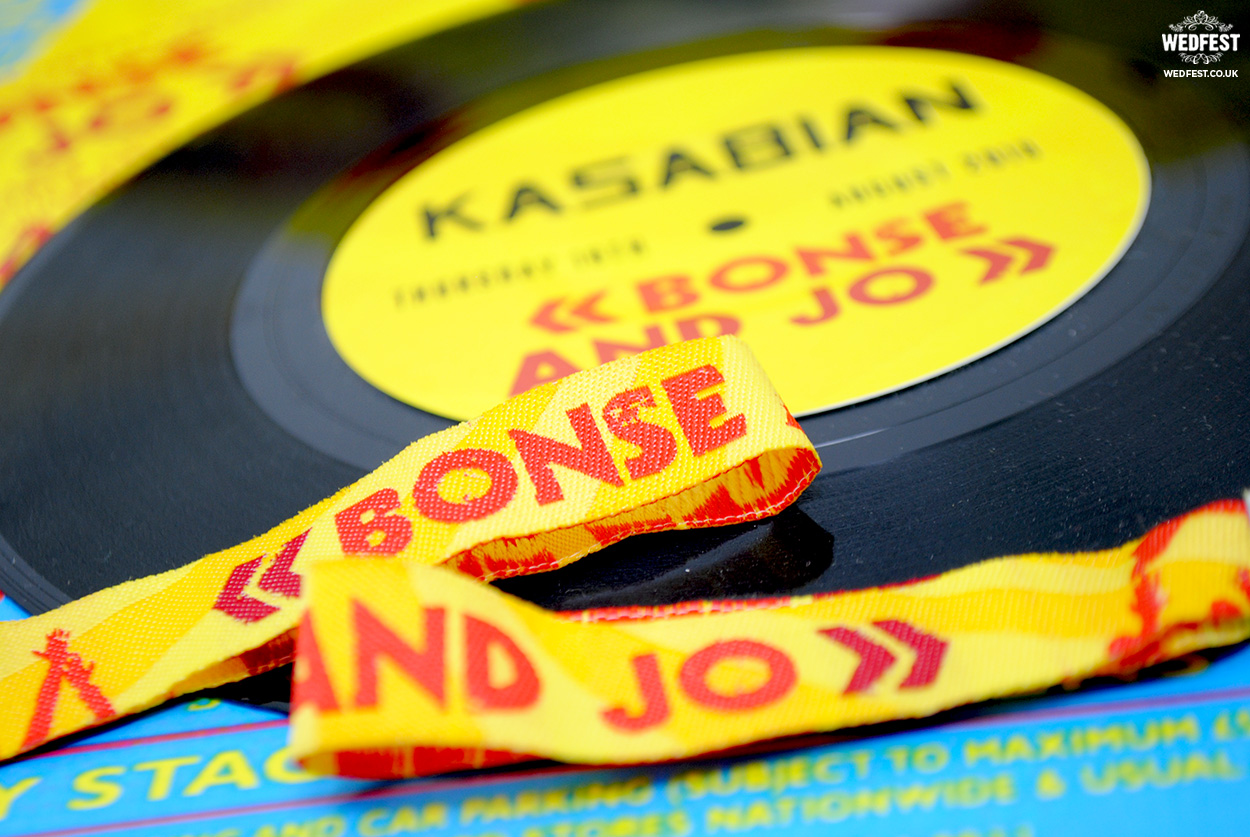 reading festival wedding stationery vinyl records wristband favours
The seating plan itself ended up going viral as the Kasabian tribute act called Kazabian took a photo of it, this was then reposted and shared by Radio X on their facebook and instagram, and even the twitter account for Reading and Leeds festival were showing the love for our table plan design.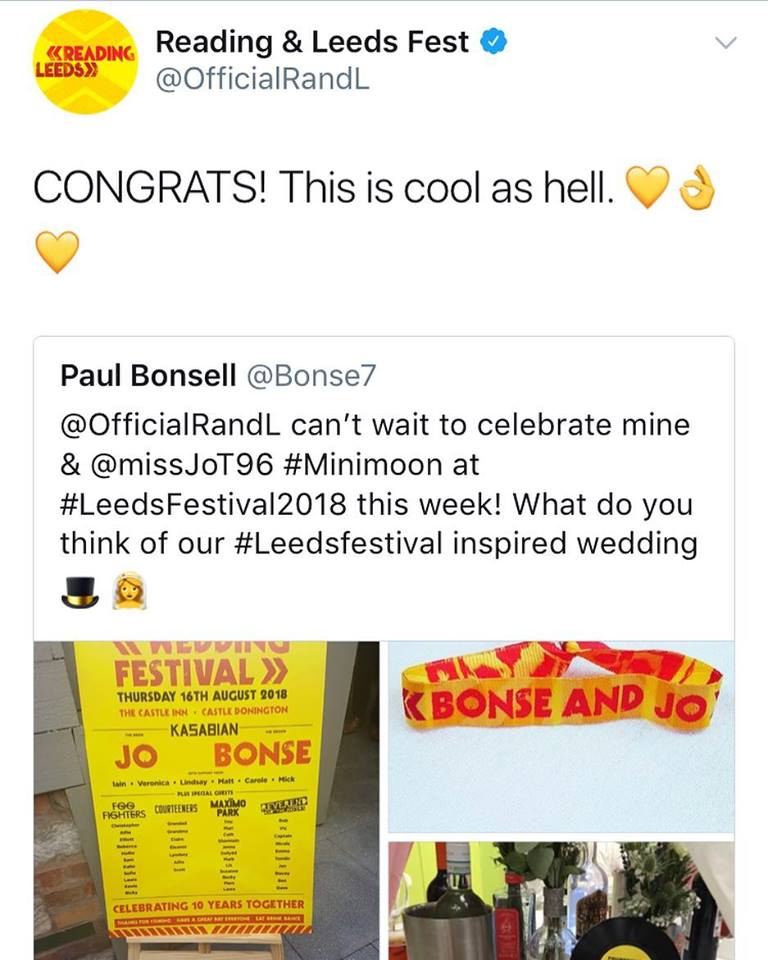 reading and leeds festival wedding seating plan
So going viral aside the wedding was a rock n roll extravaganza and only days after tying the knot this rock n roll bride and groom were pulling on their wellington boots and heading to Leeds Festival for their mini-moon. Still rocking their festival wedding wristbands that we made for them as you can see in the photos.
This was a great wedding to work on and it was fab to see the couples table plan going viral and getting so much love from other festival and music fans. We would like to thank Paul & Jo for using for Wedfest for their wedding stationery and another hug thanks for letting us share their photos of their amazing wedding day with you all, it will no doubt inspire many weddings in the future. A massive congratulations to Paul & Jo and wishing them the very best for their future together!!
If you like the look of what you see here and would like something similar for your
music festival themed wedding
, whether it be
music festival ticket wedding invites
,
festival wedding wristbands
, wedding table plans etc…
just click here to get in touch
and see what Wedfest magic we can sprinkle on your wedding day.
Comments
comments