Art Deco / Art Nouveau Wedding Invitations – This next amazing set of wedding invitations was created for a couple in Ireland who wanted their wedding stationery to be designed according to this brief – a festival themed wedding in a vintage art deco / art nouveau style. No problem!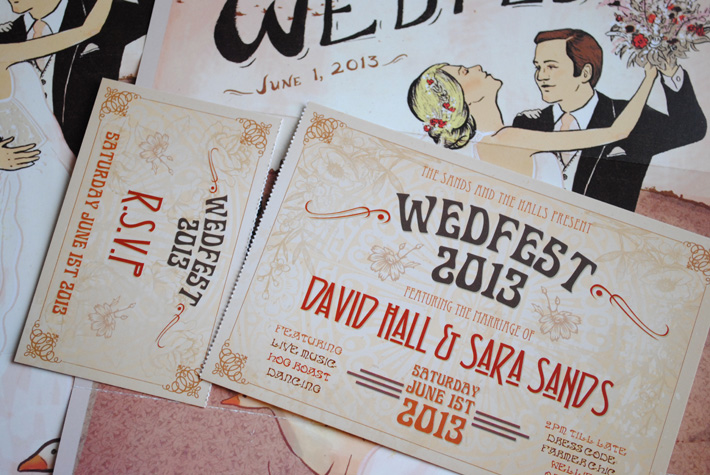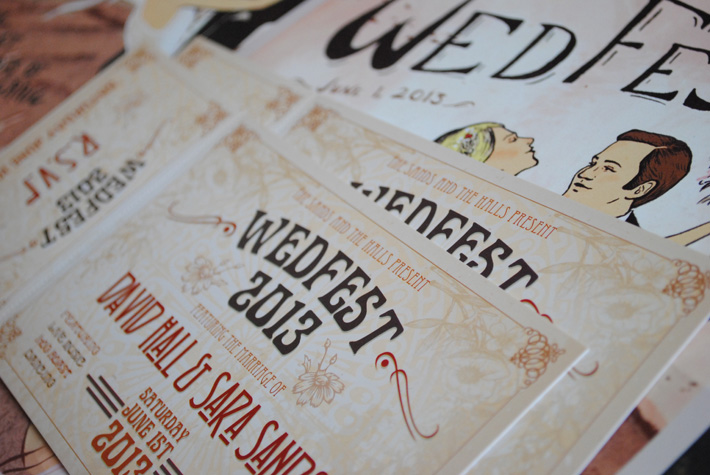 So to design these vintage art nouveau style wedding invitations I started by looking at various different Art Deco and Art Nouveau fonts, and then the couple sent me on some art nouveau images that they liked so I could take inspiration for the colour and style from those. Once I started designing and it didn't take long for the invitation to come together. Using some fantastic fonts and warm vintage colours, along with some art deco style calligraphic elements the invitation quickly took shape. I especially love the WEDFEST 2013 logo and the font used for their names, also used by Led Zeppelin in their logo, well if its good enough for them!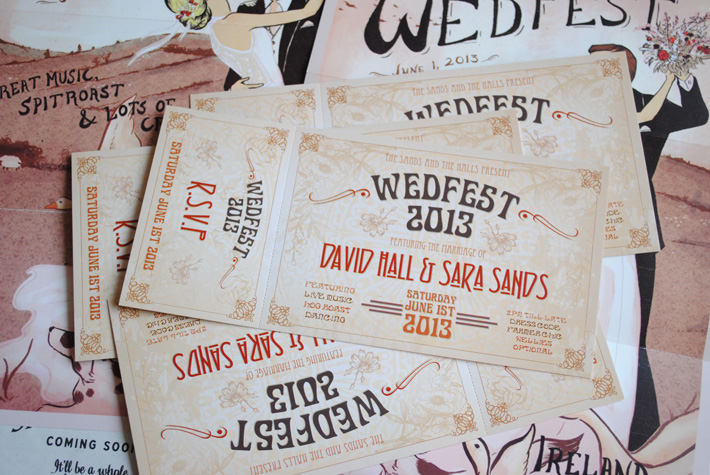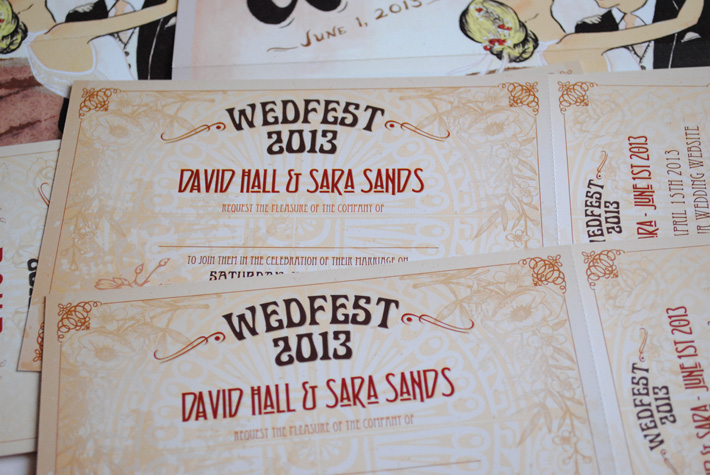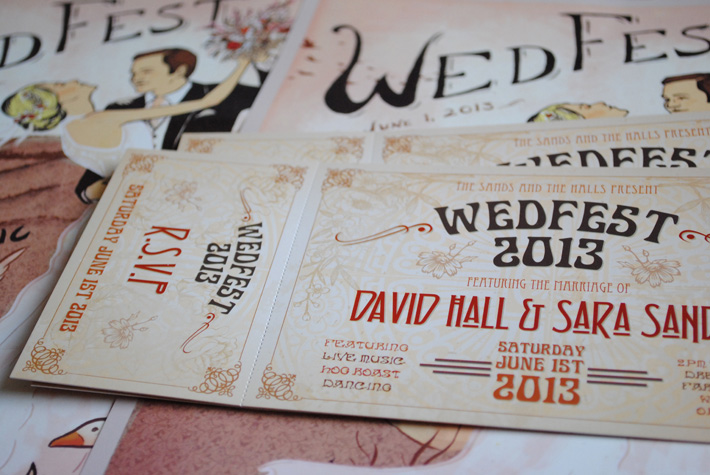 As these invites were designed in a festival ticket style there also is a perforated RSVP stub, which tears of and has all the RSVP information the guest needs to know.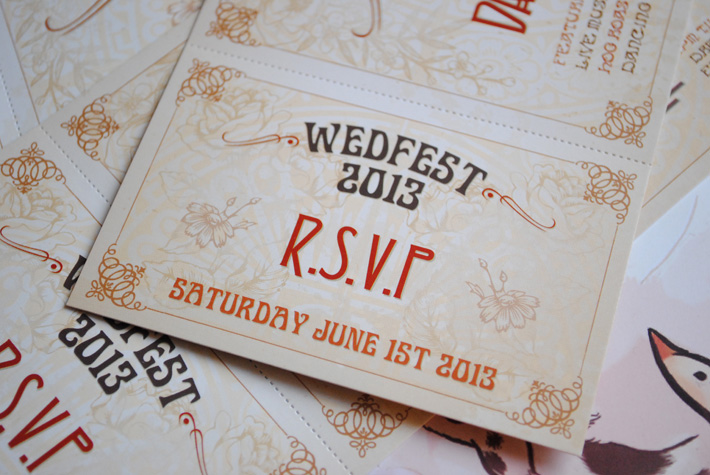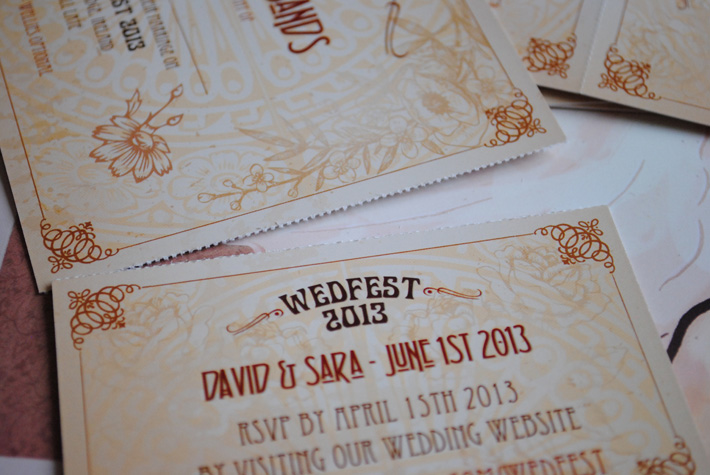 The other part of this wedding stationery which is a huge feature in the photos you see is the poster in the background. The poster was created by an amazing illustrator called Tara from Brooklyn, New York who designed the couple their very own art nouveau wedding poster, which I then printed for them to send out along with the invitations. This poster is amazing, it really captures the styling and colouring of these old style posters and the addition of the geese, dogs and Irish countryside is utter genius. This girl is really talented.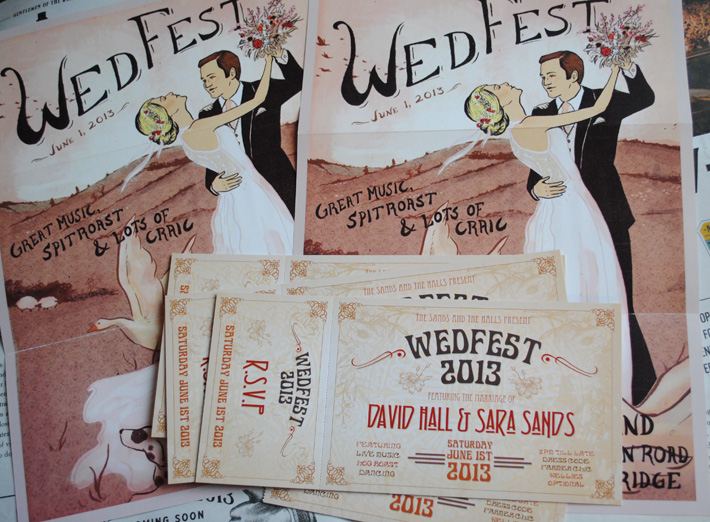 Anyone receiving this poster in the post should be immediately framing it and putting it on their wall its an amazing piece of art and a really great momento to give to your wedding guests as something to remember your wedding day by. I only wish I had of thought of it for mine, its truly amazing!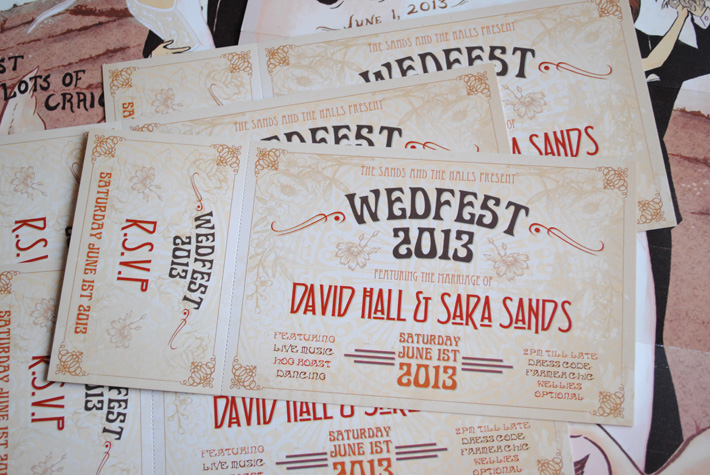 If you want more information on these art deco style wedding invitations or any of the festival style wedding invites you see on this website, or if you want more information on themed wedding invitations of any kind please click here to get in touch. Also if you are interested in the bespoke designed posters get in touch and I can arrange for something similar to be designed for you.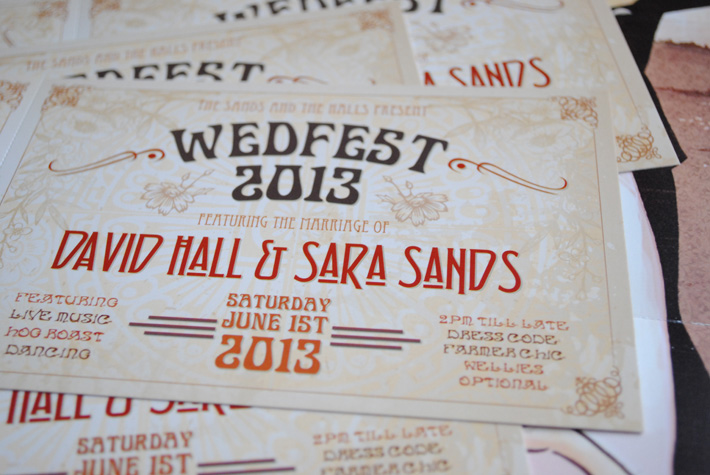 Keep an eye on the website in the coming days weeks for more exciting festival wedding invites as well as more vintage style wedding invitations. Its all go at WedFest.co
Comments
comments