Red Rocks Amphitheatre Wedding Invites – This wedding invitation design was for a music loving couple who were getting married at Red Rocks Amphitheatre in Morrison, Colorado, USA. Red Rocks is a concert arena that was built around a large rock structure in Colorado which provided a perfect amphitheatre setting. It is a very popular venue and has provided many notable performances including a concert by The Beatles in 1964. U2 played a memorable gig at Red Rocks in 1983 and it was recorded and released as a concert film called U2 Live at Red Rocks: Under a Blood Red Sky, and more recently Mumford and Sons recorded and filmed music videos at the venue. Anyone who is anyone in music has played Red Rocks and if you know music you don't need me to explain the history of this amazing venue.
Anyway back to the matter in hand John & Christina came to me looking for a wedding invitation for their wedding at Red Rocks. I came up with the title WED ROCKS for the invite design (wasnt difficult!) and we decided on a Concert Poster Wedding Invitation design. John played the guitar and wanted to somehow feature that in the invitation design. There has been many, many amazing concert posters produced for gigs at Red Rocks over the years so it was quite difficult to put my own spin on the design without being influenced by the designs I had seen. In the end I think I nailed it. I have the image of an acoustic vertically pointing out between of the huge rocks with bold rock like text all around the poster providing the details of the wedding and a blue and multicoloured starburst sky bursting out of the rocks. We printed the wedding invites as posters to give them the sense of a real concert poster and also a great keepsake for the wedding guests.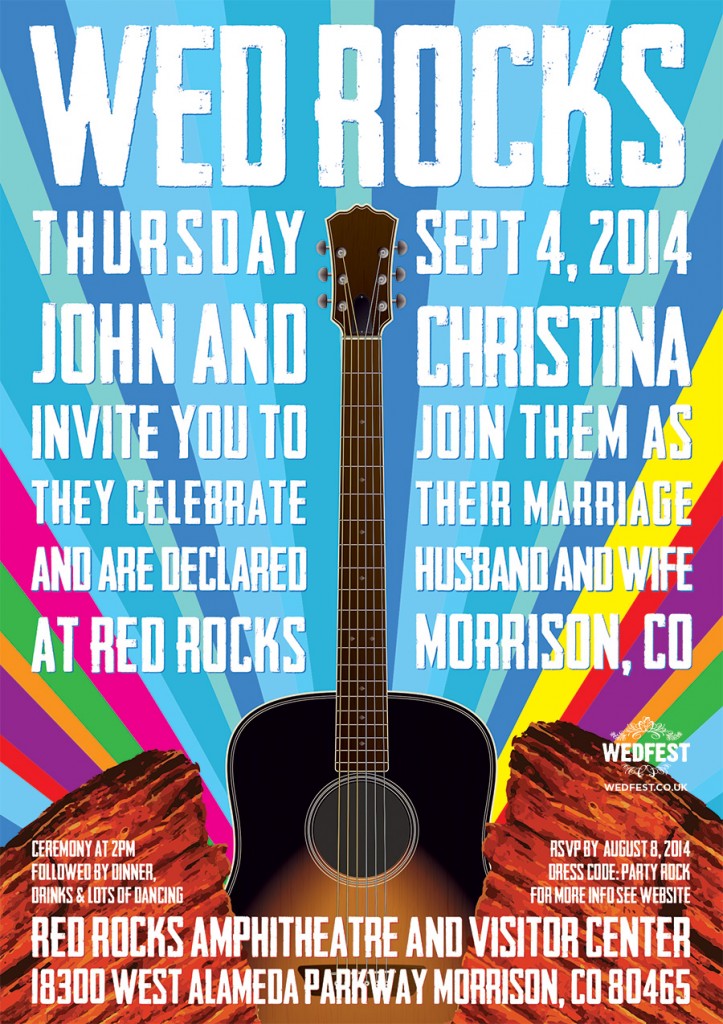 If you are getting married at Red Rocks and would like a similar red rocks themed wedding invitation, or are having a rock'n'roll themed wedding or just like the look of the wedding invitation designs you have seen on this website and would like more information please click here to get in touch.
Comments
comments