Kate Moss and Jamie Hince did it; Dawn Porter and Chris O'Dowd did it; and Poppy Delevingne and James Cook did it – Festival weddings are officially a 'thing', but where do you begin when planning your festival themed wedding? Follow our essential tips for everything you need to know about creating your dream wedding.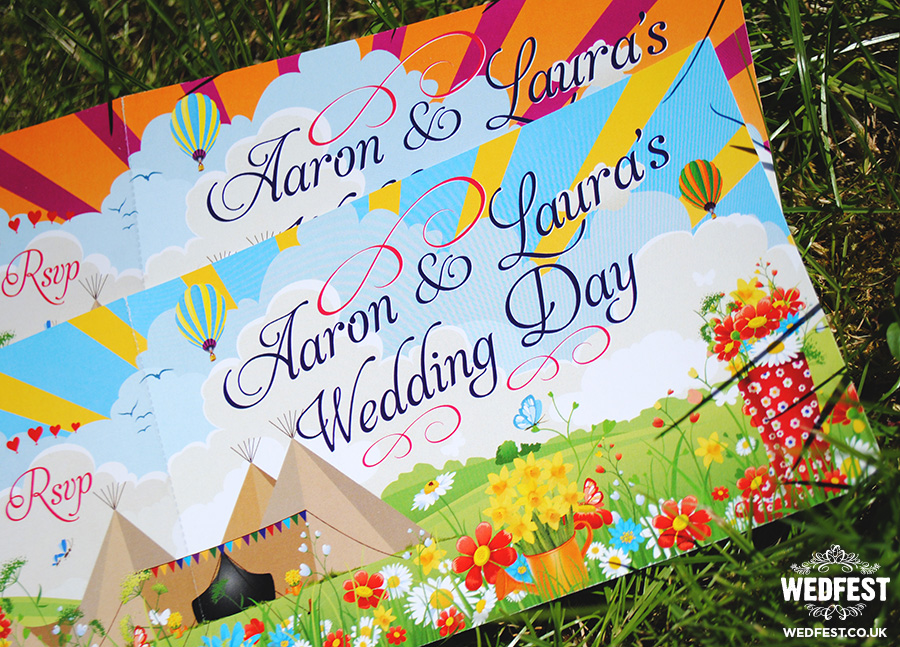 The Prep
If you're going for a festival theme, you have tons of options when it comes to wedding invitations and wedding stationery. Send your guests a 'save the date' or invitation in the form of a lanyard for extra authenticity. You could also create festival themed wedding stationery which includes a 'line up' of events. WEDFEST specialises in festival themed wedding invitations, and can help you to get your guests in the mood for your big day from the moment that they open that envelope.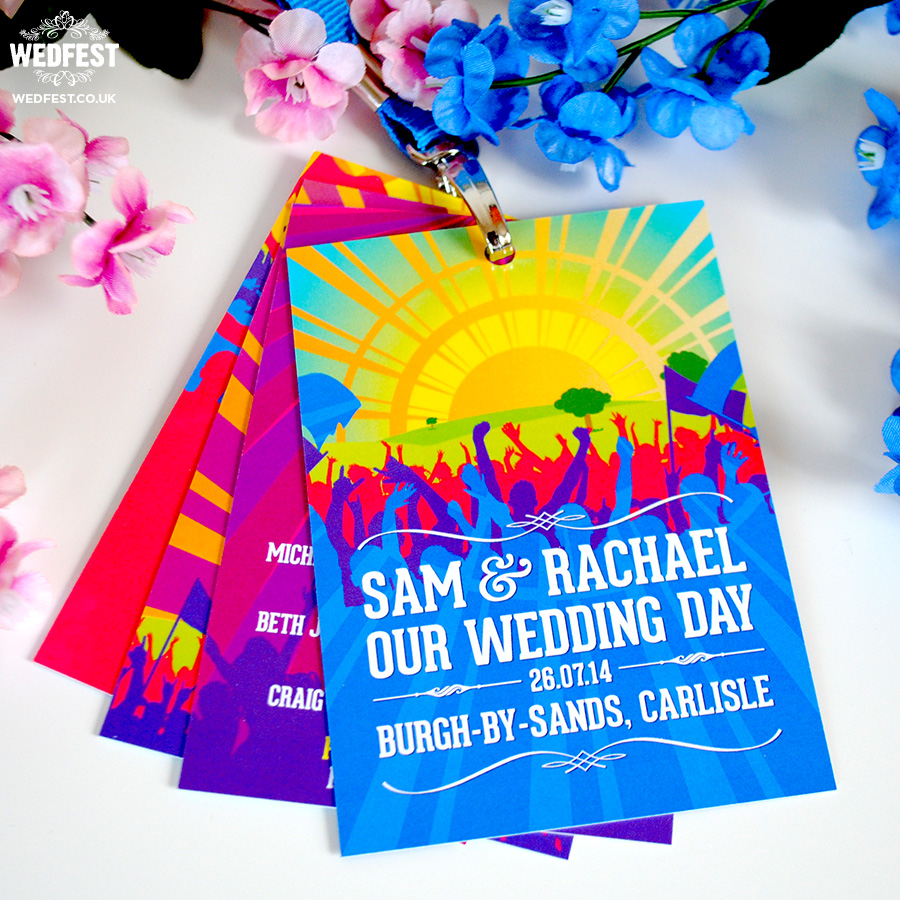 The Music
Ms Moss may have had Primal Scream performing live at her wedding reception, but you can get a similar Glastonbury vibe by hiring a live band (or a couple of live bands) instead of a DJ, and adding your favourite indie chart hits to the playlist.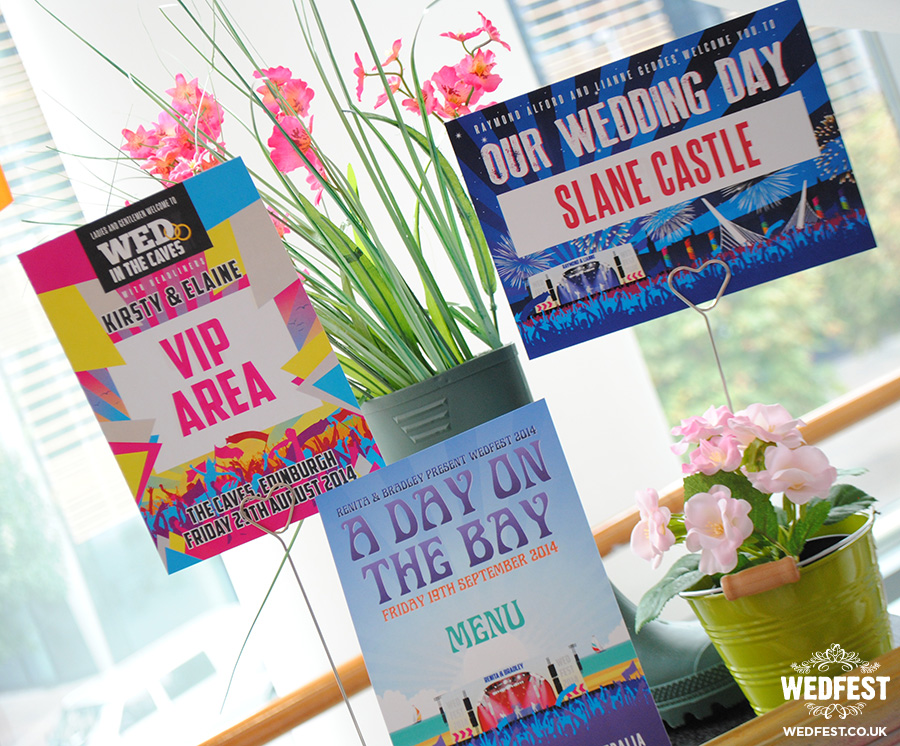 The Lighting
Festival lighting is all about fairy lights; Chinese lanterns; candles and glow sticks. Create an Instagram-ready atmosphere by hanging fairy lights from tree, or making your own version by dropping tea lights into mason jars. Remember to add a bit of sand to the bottom of the jars to keep the candles stable.
The Dress
For festival brides, it's all about boho chic. Channel Fearne Cotton in a glittering chiffon dress which comes down to the ankles, leaving you plenty of room to dance after sunset. Or go for a vintage lacy gown which will lend you an ethereal and timeless look. A headdress made of fresh flowers will complete the look.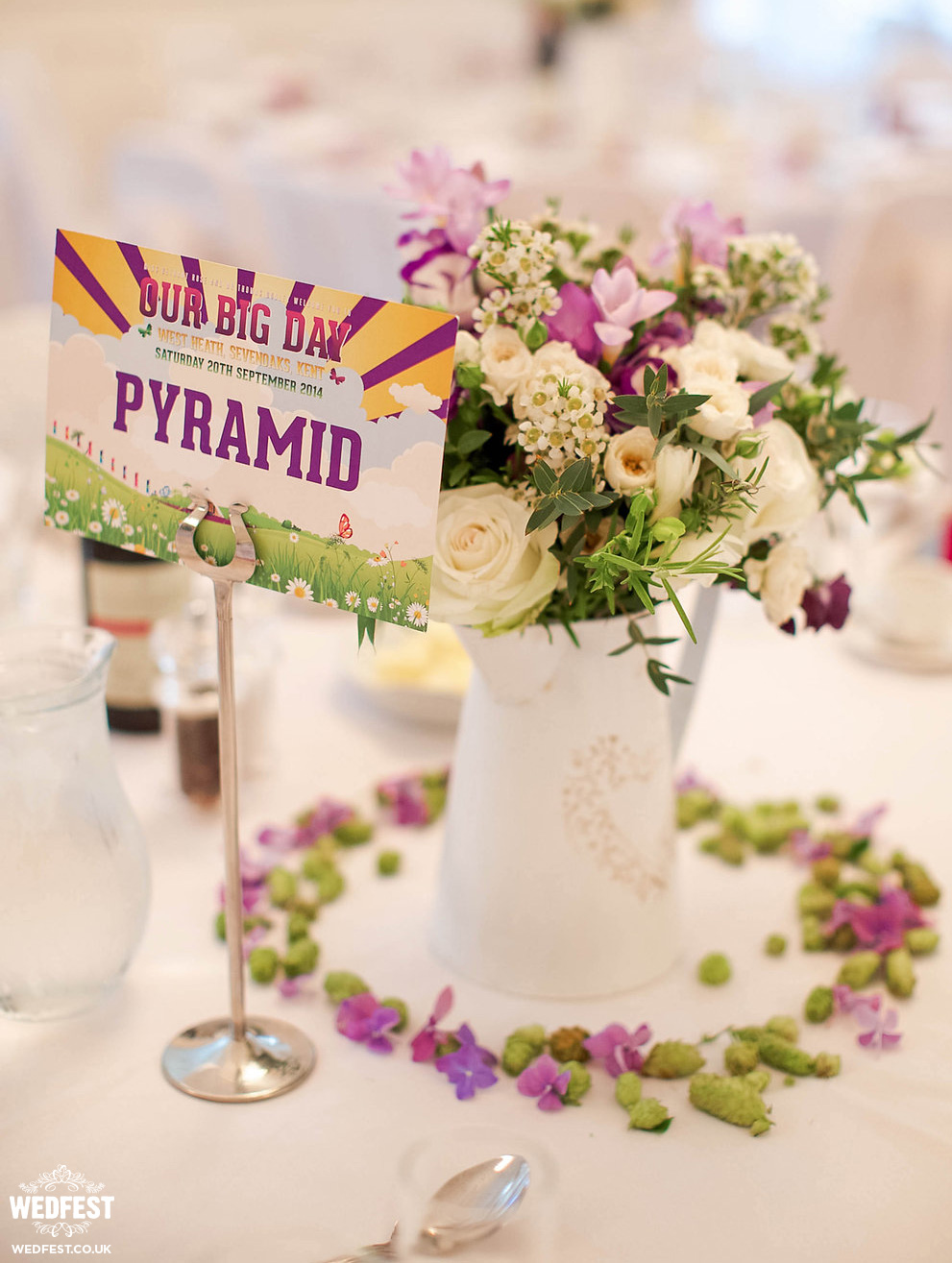 The Venue
Ideally, your festival themed wedding will happen outdoors in glorious sunshine. However, this being Britain you may need to hedge your bet. Hire a good quality marquee and drape fairy lights across the ceiling for a starry night effect. Or hold your wedding at a venue which offers some indoors space, so you can retreat from the rain if need be.
The Food
For a festival wedding, nothing beats a hog roast. Paired with bread rolls, apple sauce and a side salad they are filling and rustic. If you are catering for a range of dietary needs, consider a buffet meal with different courses served at festival-style stalls. For a more subtle nod to the theme, simply incorporate festival favourites into your wedding menu.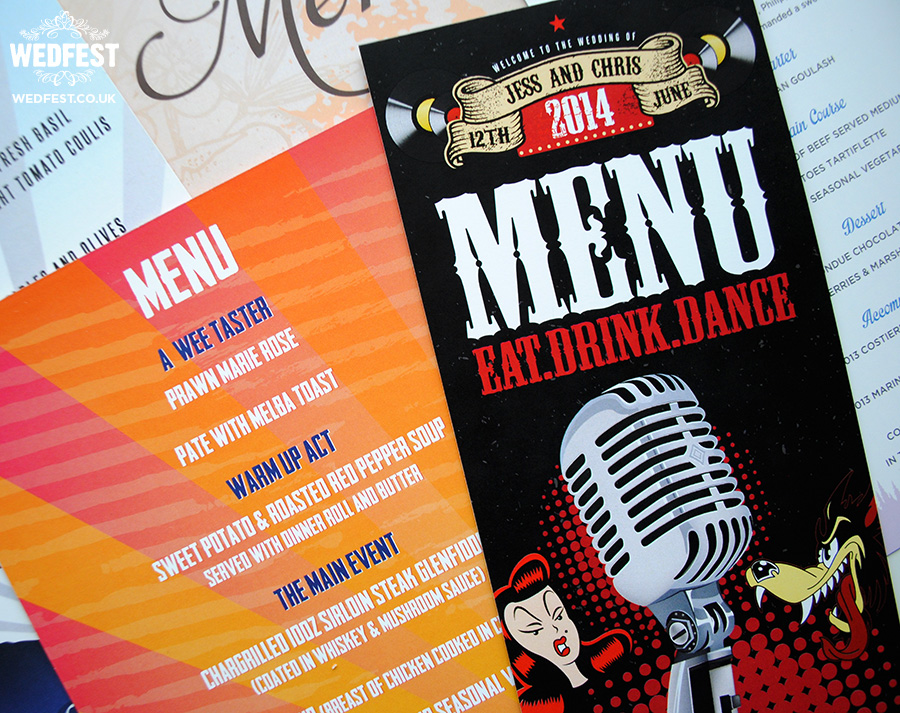 WEDFEST can help you to create a festival themed wedding table and seating plan, and bespoke wedding menus.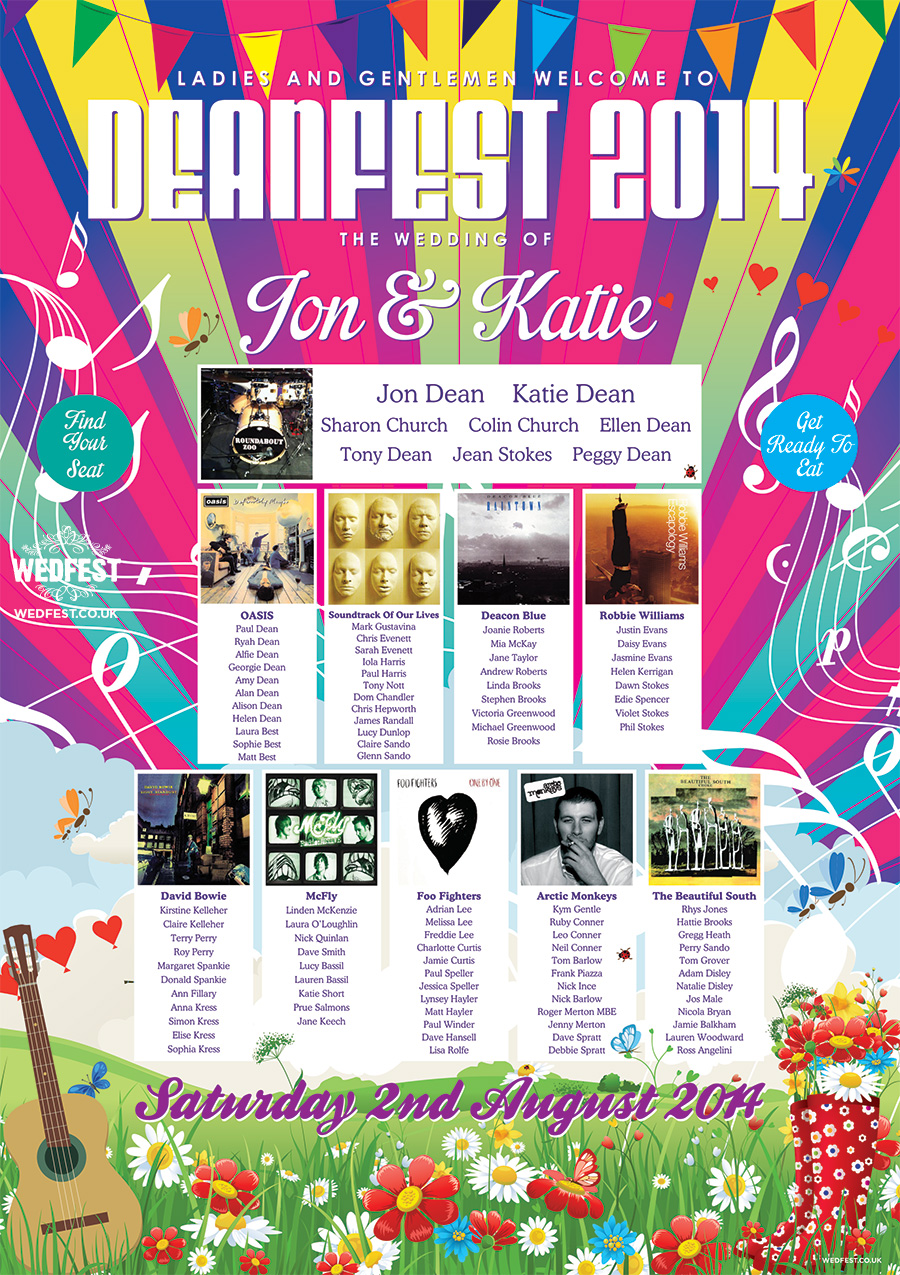 The Party Favours
If you want your guests to remember your wedding for years to come, you better get the party favours right. Save money by investing in dual purpose items – an order of service could double up as a fan in hot weather; napkins could be tied in vintage lace which can be reused again and again; and pretty lanyard-style invitations can be hung in gardens as a memory of the day.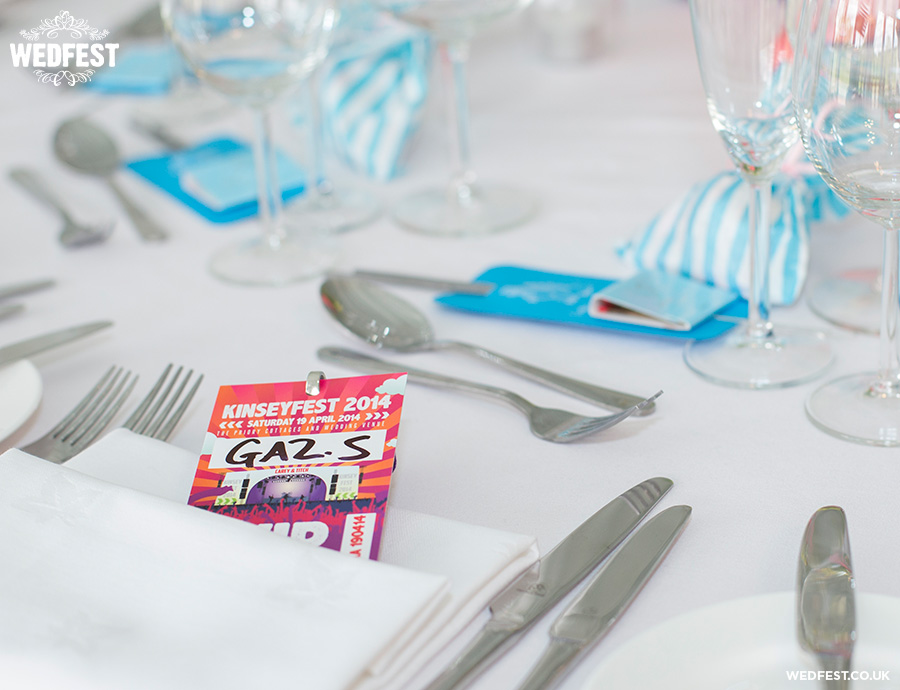 What we recommend to add that extra special touch is to give your guests personalised festival wristbands. These are great to keep the festival theme going and also make a great wedding favour.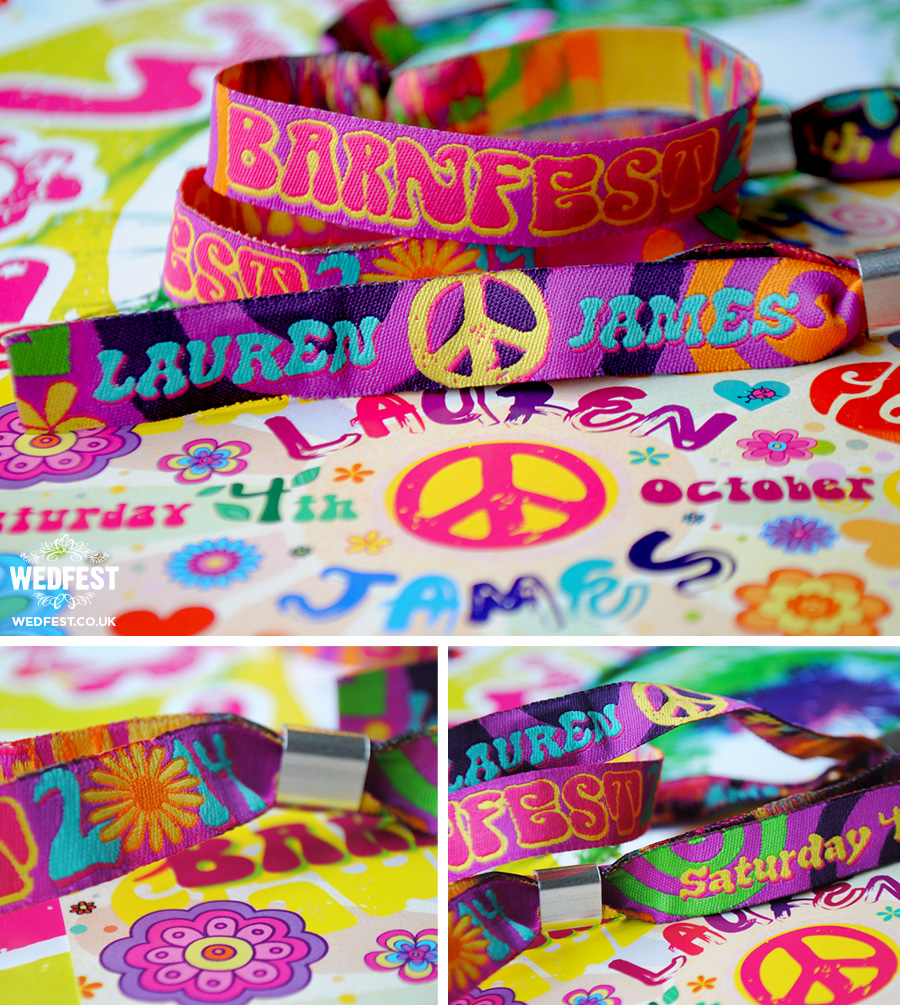 With festival weddings, it pays to think outside the box and to stick to the theme, so you and your guests have a day which is fun, romantic, creative and 'you'.
If you are planning a festival wedding and want to find out more about our range of festival wedding stationery please click here to get in touch.
Comments
comments