Instagram Wedding Thank You Cards – Alongside Facebook and Twitter, Instagram is one of the worlds most popular social networking sites. Taking photos is more popular than ever and with smart phones and awesome apps like Instagram every day people can take awesome photos and use an array of filters to make them even more cool looking. Now a days people are documenting their whole lives on sites like Facebook and Instagram. I for one definitely do this and I am constantly updating my Facebook and Instagram pages with photos from everything from nights out, festivals and concerts, my family and friends, my work and much more. Obviously one of the most popular things on Instagram is wedding photos. More or less every guest at a wedding these days will have a smart phone and at least half of them will be on Instagram and most likely will take and upload a few photos to Instagram from your wedding day. I have been finding more and more lately that when people come to me asking me to make their wedding thank you cards, instead of sending me one of their professional photos from their wedding photographer they are sending me an Instagram photo that one of their friends or family took of them. This is quite understandable in many senses.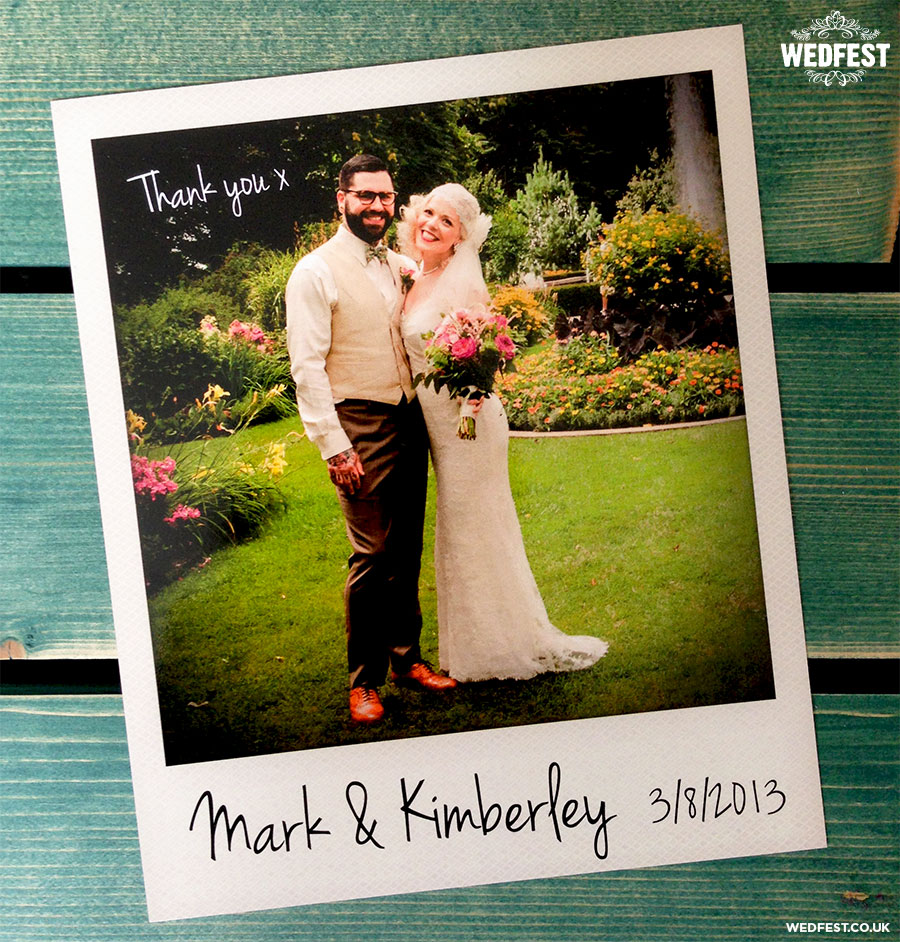 For one it might take a while before the newly married couple get their wedding photos from their photographer, were as on Instagram the photos are immediately available to them and they are so easy to share and quickly gain access to. The other reason seems to be that the photos people like are the ones that catch them in a moment that maybe the photographer didn't catch. Although most photographers these days take a mix of posed and natural photos sometimes there is just that moment or angle that some one has just snapped on their iPhone that a couple will fall in love with. This is usually the photo that couples come to me with for their thank you cards. Of course the other genius part of Instagram which I already mentioned is the filters. Once you take the photo you can then play around with the filters and make it looked aged, black and white, sepia, adjust the contrast etc. etc. It puts you in total control of how the photo for your thank you cards will look. Of course I can easily add a range of filters for the couple but 9/10 times when they come to me with an Instagram photo they want it printed as is.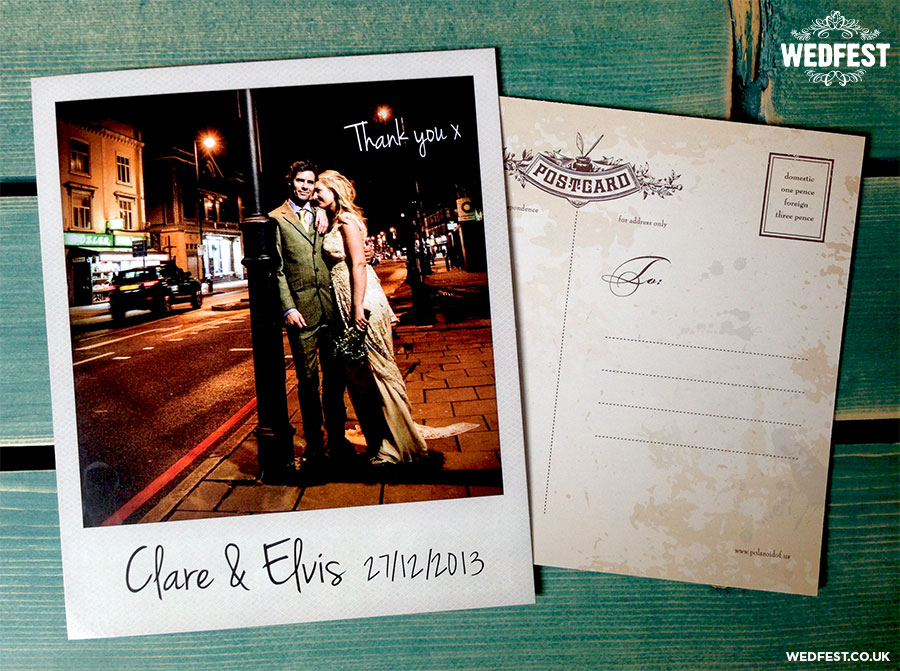 So what to do with the Instagram photos? I make a range of personalised polaroid wedding thank you cards which you can see in the photos here and through out this website. The Instagram pics work perfect in this format as the photo on a polaroid just like an Instagram photo is a perfect square. This makes your already retro Instagram photo look even more retro and even more cool. The other great thing about the polaroid thank you card layout is you can add writing to the bottom side of the polaroid. Most people either add their names and wedding date or just add their surnames or a quote, the options are endless and totally down to your personal choice.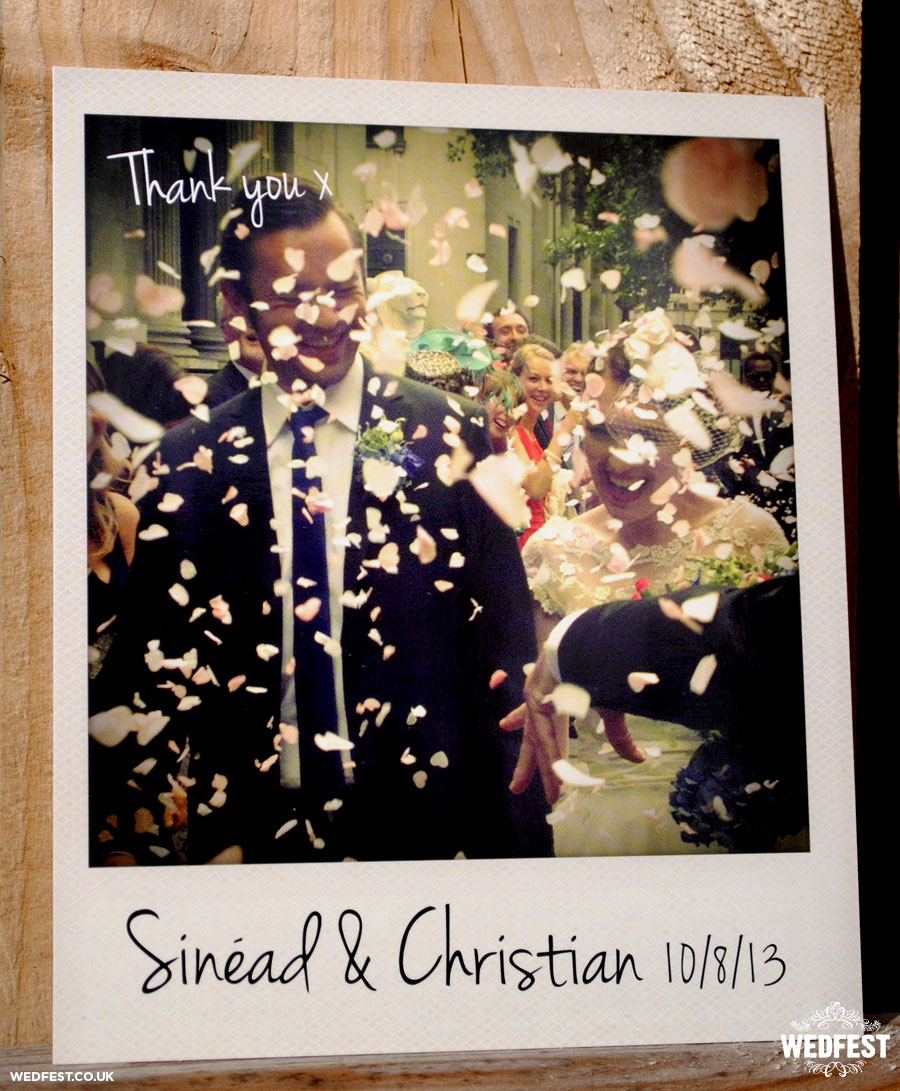 So this is the perfect way to make use of your favourite Instagram photo from your wedding day. Have a look through the site and you can see how other couples have used their cool wedding photos for thank you cards. If you are interested Instagram Photo Wedding Thank You Cards or any of the wedding thank you cards or wedding stationery on this website please click here to get in touch.
Comments
comments