Ibiza Wedding Invites Sa Flama Beach Ibiza
The summer is nearly completely gone and dreams and thoughts of Ibiza turn to next summer – unless of course you are Hayley and Colin who just tied the knot on the white isle yesterday!! They are currently lapping up the sunshine, no doubt sipping on a sangria and enjoying wedded bliss, probably form the inside of one if Ibiza's super clubs such as Pacha or Ushuaia.
Ibiza Wedding Invites
Yes thats correct these guys just got married yesterday in Ibiza on Sa Flama Beach just outside San Antonio, Ibiza. I was stood there myself not that long ago and a beautiful place to get married it is. Hayley contacted me earlier in the year explaining they were getting married in Ibiza and wanted some Ibiza themed wedding invites. We discussed the idea of an ibiza flyer themed wedding invite and eventually amalgamated this with a ticket style wedding invite.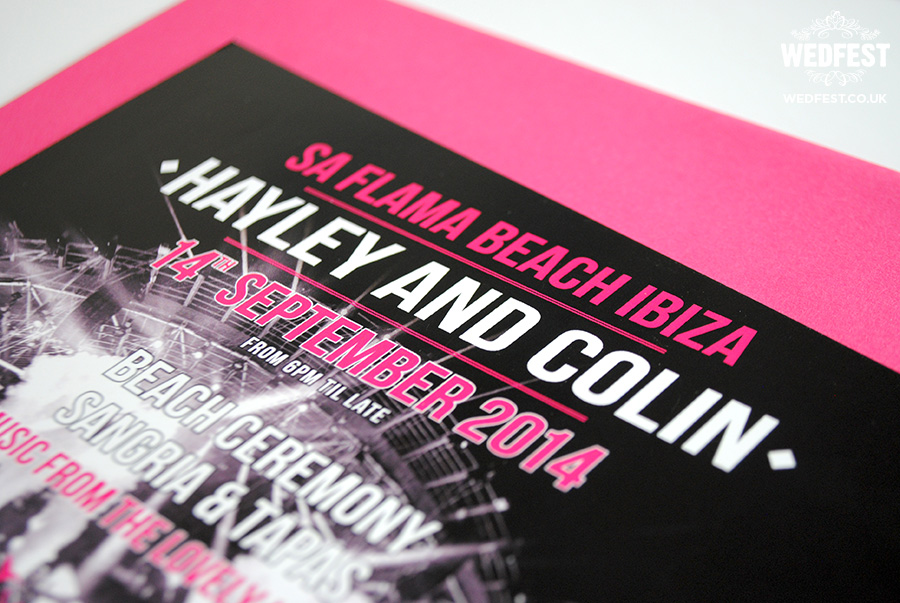 For the colours she wanted to keep it very simple, black, white and neon pink which was what she liked on the ibiza nightclub flyers she sent me for inspiration. The couple were staying at Ushuaia Beach Hotel for their Honeymoon so she also wanted to use the image of one of Ushuaia's legendary pool parties in the background.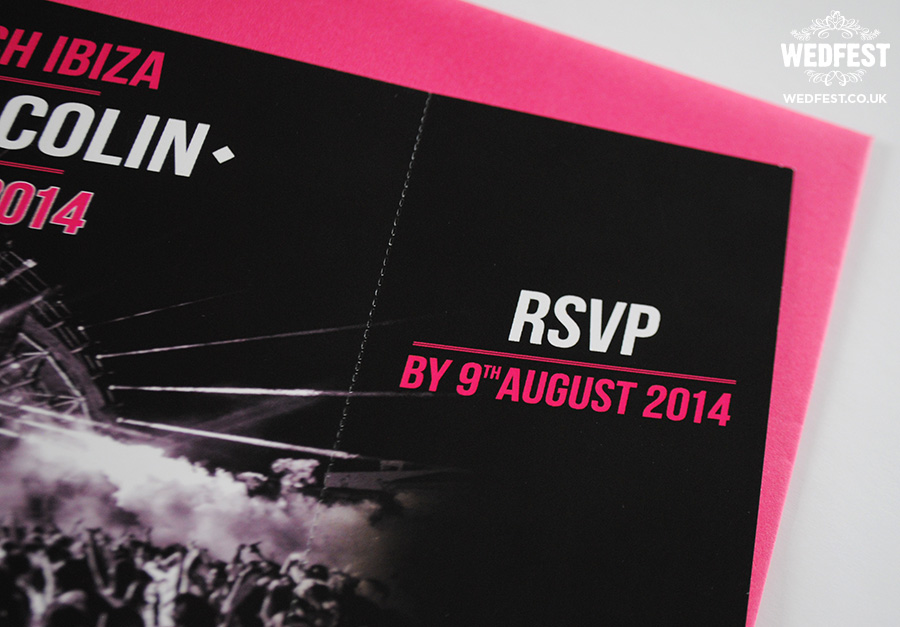 For the design and layout we went for a typical ibiza flyer theme, with their names as the headline followed by the date and other details of the day such as the beach ceremony, sangria and tapas and music from the Lovely Laura. If you have been to Ibiza you more than likely know who the Lovely Laura is. She plays saxophone on the island each summer and is an amazing talent. She is a regular at Hed Kandi, Cafe Del Mar and Ocean Beach Club and if you don't know who she is then check her out you will be impressed!! superb talent, I wish she had been at my wedding, then again I also wish I had got married in Ibiza.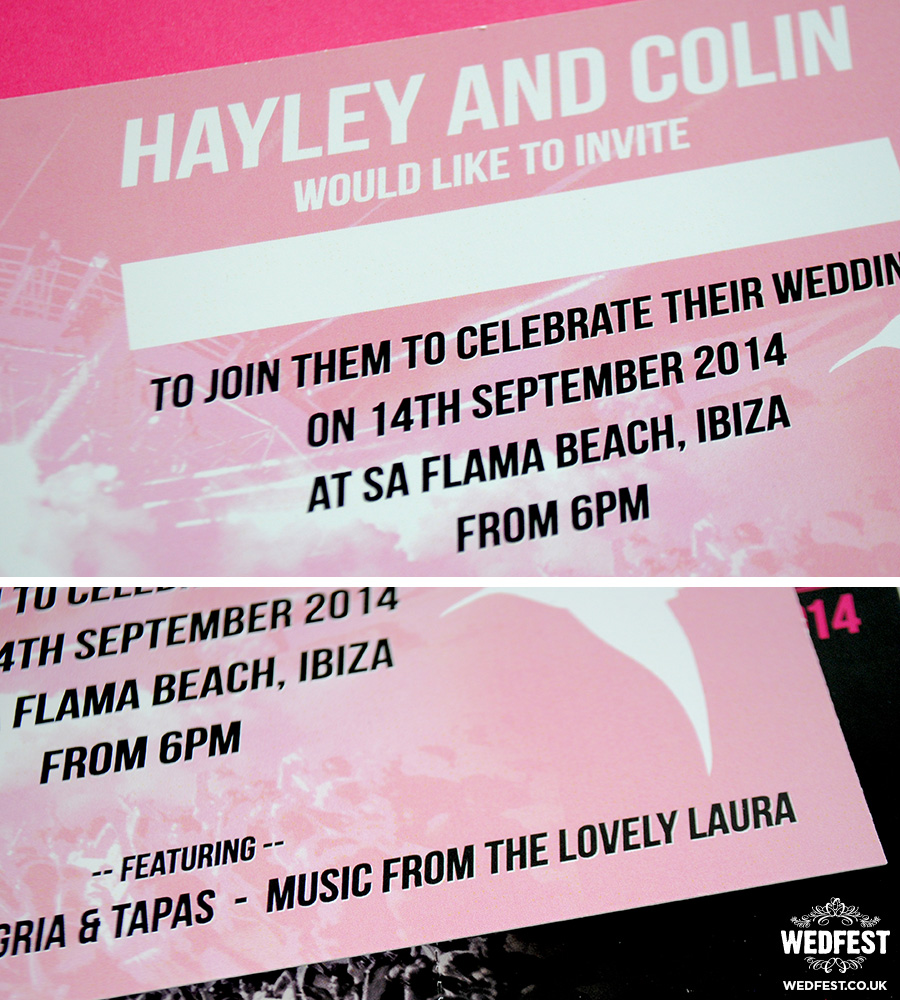 Ibiza themed wedding invites
On the reverse side of the wedding invitations was further details for the guests and more info on the wedding. The wedding invite featured a perforated RSVP ticket stub which guests could easily tear off and send back to the couple.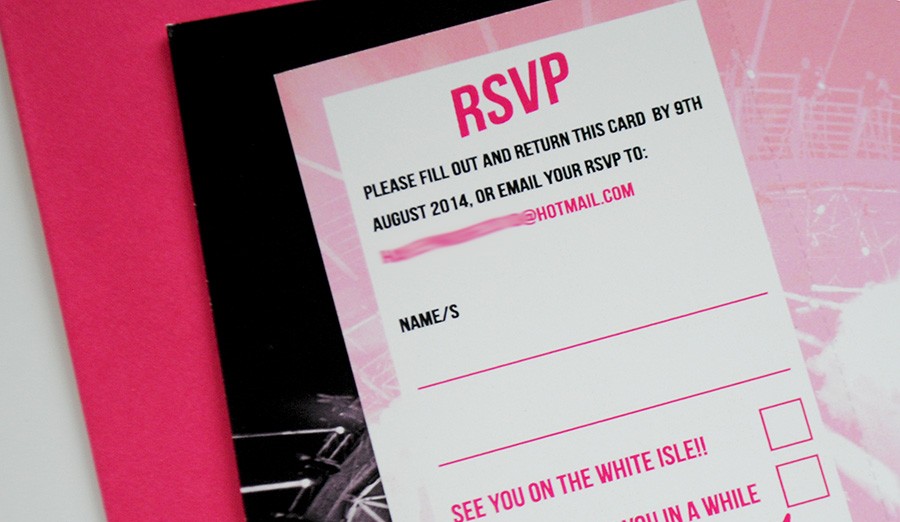 This is the latest set of Ibiza themed wedding invites I have worked on and I have loads more to complete over the coming weeks and months for couples jetting off to get hitched in Ibiza.
If you are planning an Ibiza Wedding or any destination wedding and would like some ibiza themed wedding invites or wedding stationery please click here to get in touch.
Comments
comments