Ibiza Themed Wedding Stationery
Last weekend I was very happy indeed. Sitting in Ibiza watching the sunset having a little drink (or more) and getting ready for a weekend of Amnesia, Cafe Mambo, Cafe Del Mar, Ibiza Rocks, Ushuaia, Phantasmagoria (Manumission), Pikes Hotel, sitting on beaches, going on boats, and getting in very very late / early. And a fine holiday it was 🙂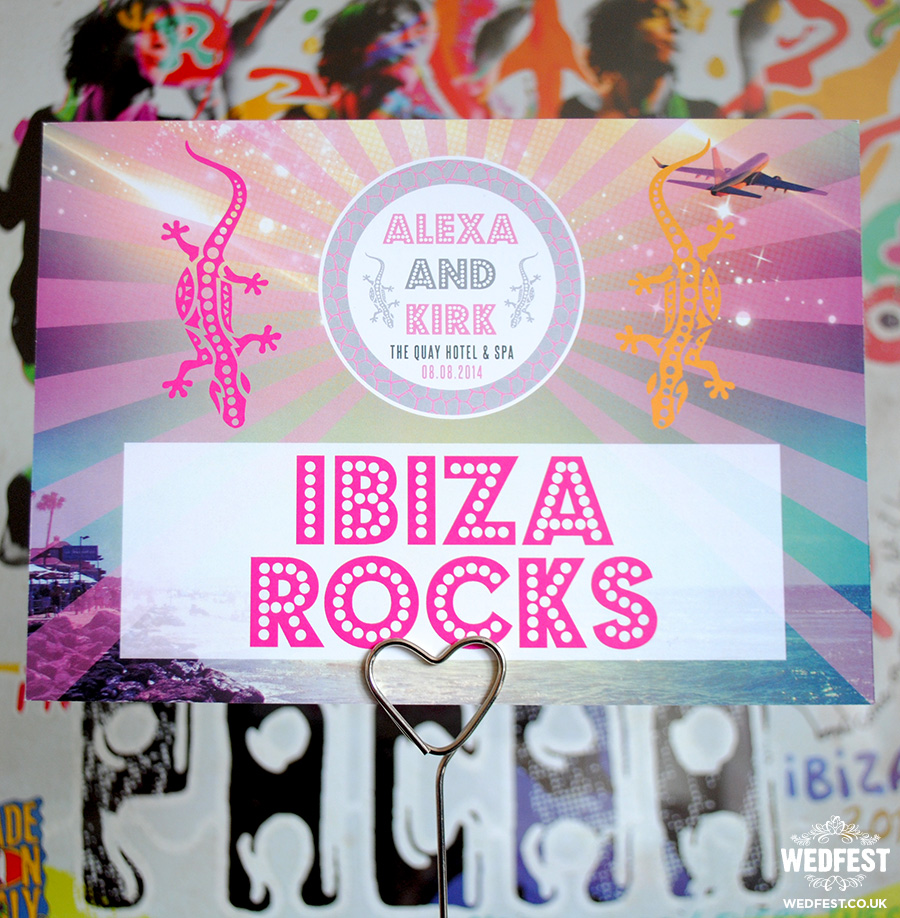 While I was doing all that two of my customers Alexa & Kirk where tying the knot (and maybe secretly also wishing they were on the White Isle 😉 ). These guys got in touch with me a few months back looking for me to create them some Ibiza Themed Wedding Stationery. No problem at all!! Alexa's brief was that she wanted a wedding table plan and table cards that had an Ibiza feel to them, taking in some inspiration from Ibiza nightclub flyers and posters but also capturing the spirit of Ibiza, all while not making it to over the top and suitable for a wedding, also featuring her wedding colours which were pink and grey. Easy!! She also wanted festival/nightclub style wristbands for her wedding guests and finally she mentioned that she got engaged at Cafe Mambo Ibiza.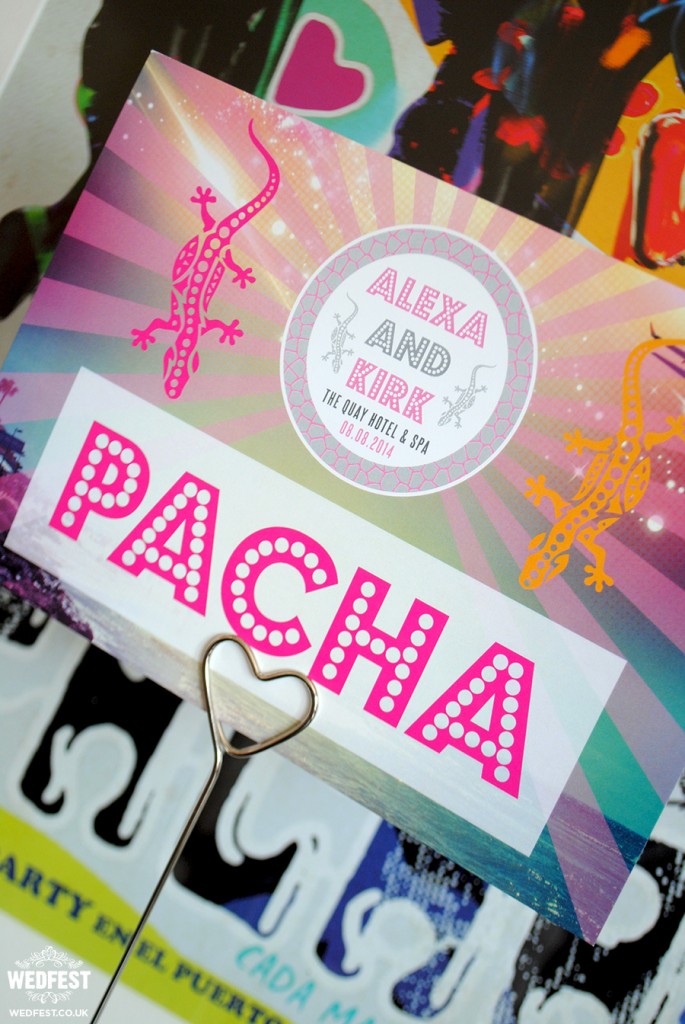 The first thing I did was research some ibiza club and bar logo designs as I had an idea to feature a logo of Alexa and Kirks name in a kind of night club logo. A lot of the ones I looked at had a very clean high end feel to them and I wanted to achieve something similar. In the design I included symbols of Lizards which are commonly found on lots of design work, logos and the like in Spain and Ibiza. When Alexa told me she got engaged in cafe mambo I knew automatically that I was going to include a nod to Mambo. Around the DJ box at Mambo there is beautiful small blue tiles with white grout between them that if you are familiar with is instantly recognisable. This is what I initially designed on both the table plan and wristband designs but the colour didn't fit with the wedding colours so we changed this to grey tiles with pink grout and it looked really cool. Perfectly giving the logo and wristband and Ibizan feel and also a perfect to nod to the engagement.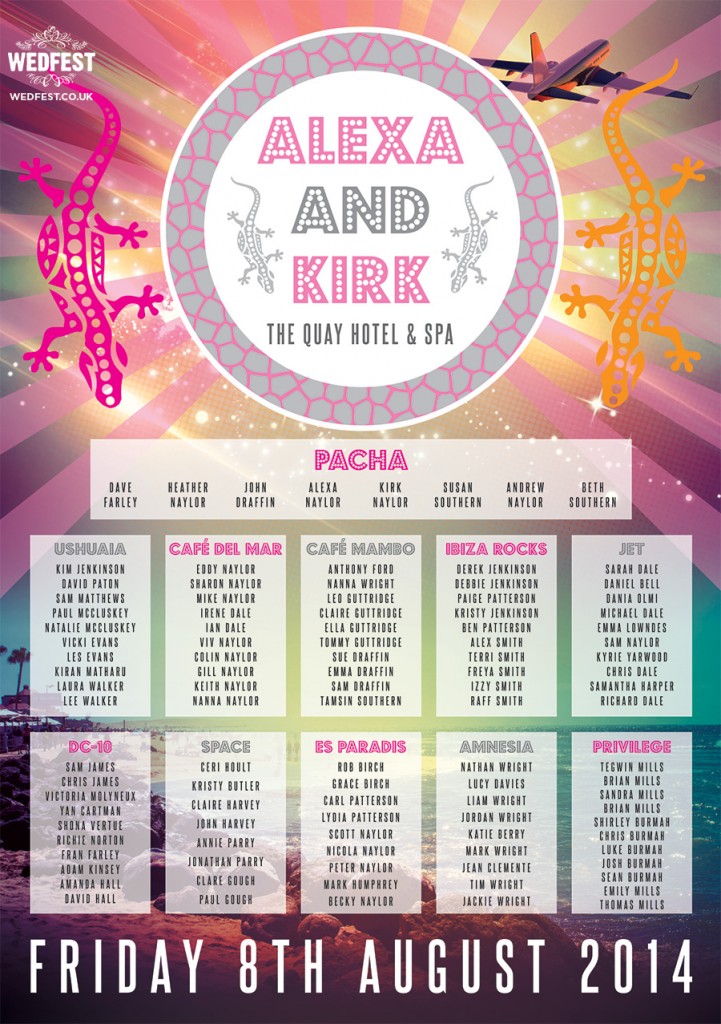 For the main design of the wedding table plan and wedding table cards I wanted the background to feel kind of like a nightclub flyer but classy and some how capture the beach or ocean. I positioned the logo where the sun would be and had pink rays coming out of the sun. I had 2 of the lizards down either side of this and in the top of the background a plane in the air, as anyone who has ever been to Ibiza knows some of the main nightclubs are beside the airport and when the planes come into land they are quite low, if you have been – you know, if you haven't been and are going – you will find out.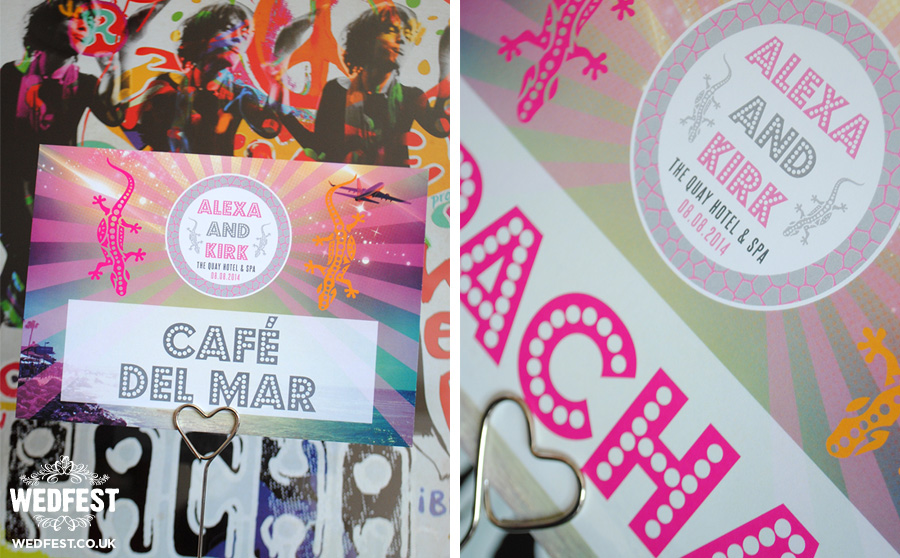 The wedding tables were all namer after famous Ibiza Nightclubs and bars such as Pacha, Ushuaia, Cafe Del Mar, Ibiza Rocks, Jet, DC-10, Space etc. Each table then had a corresponding table card so guests could easily identify where they were sitting at the wedding. Super Cool and Extra Hot as they say at Ibiza Rocks!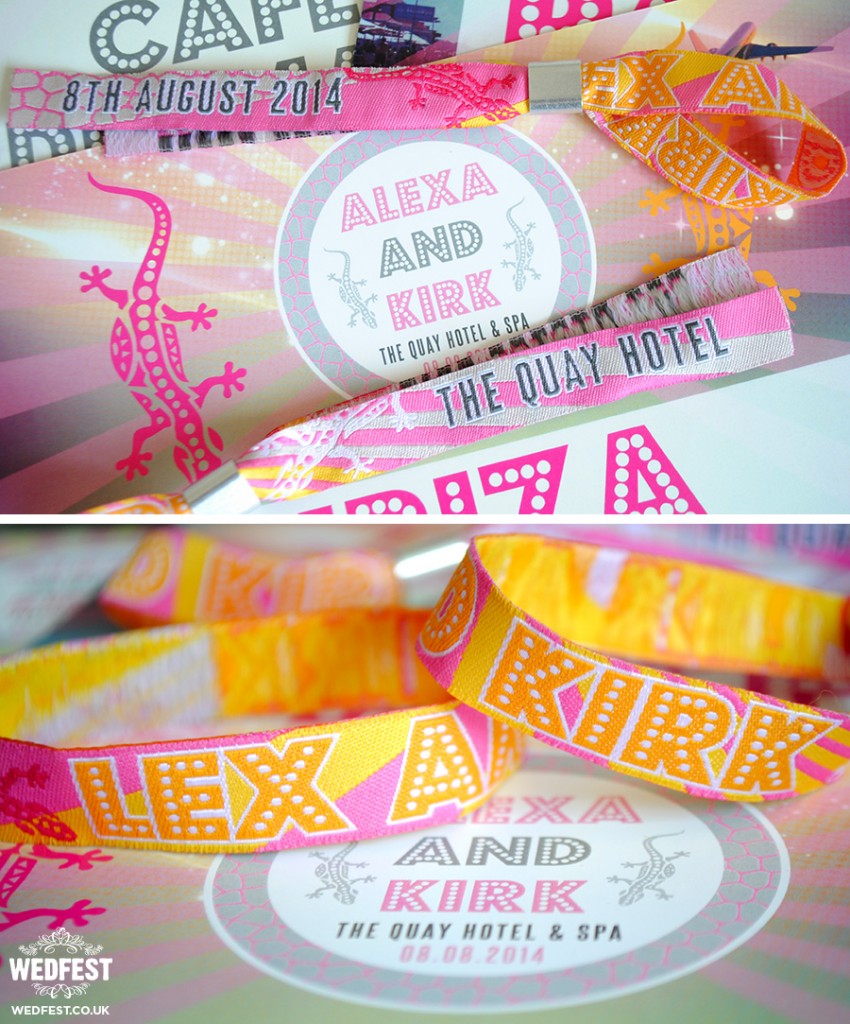 For the wedding wristbands I followed the same design theme and used imagery of sun rays, the tiles at mambo, lizards etc in the design and then had the couples names, wedding date and venue name as the text on the wristbands.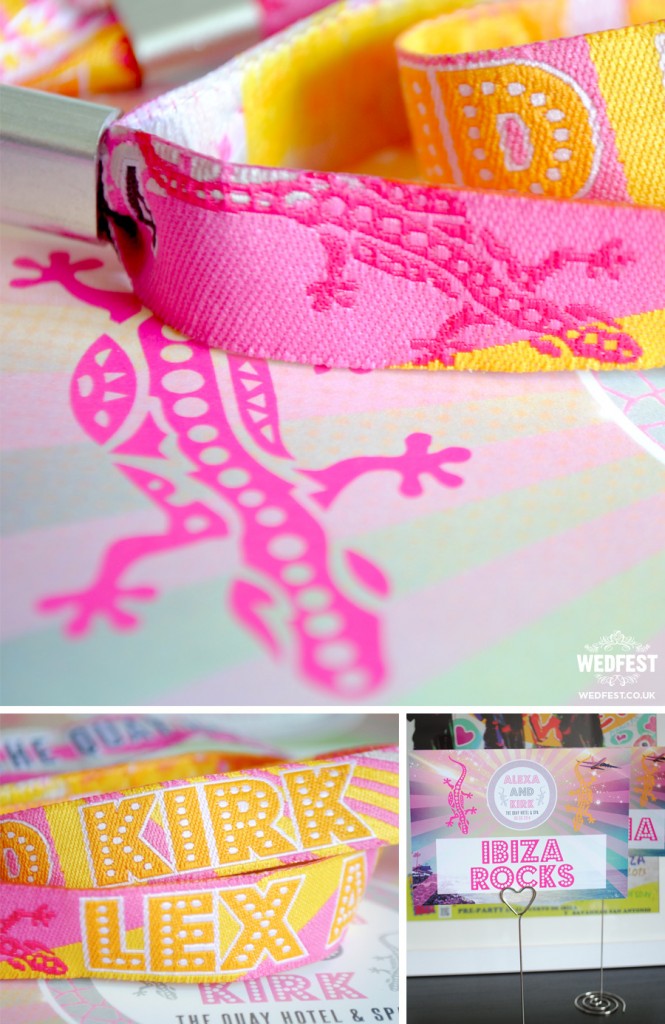 Like I said I was actually in Ibiza this very same day and photographed one of the wedding wristbands while out on a boat…. pretty cool considering I had had a few lemonades at this stage!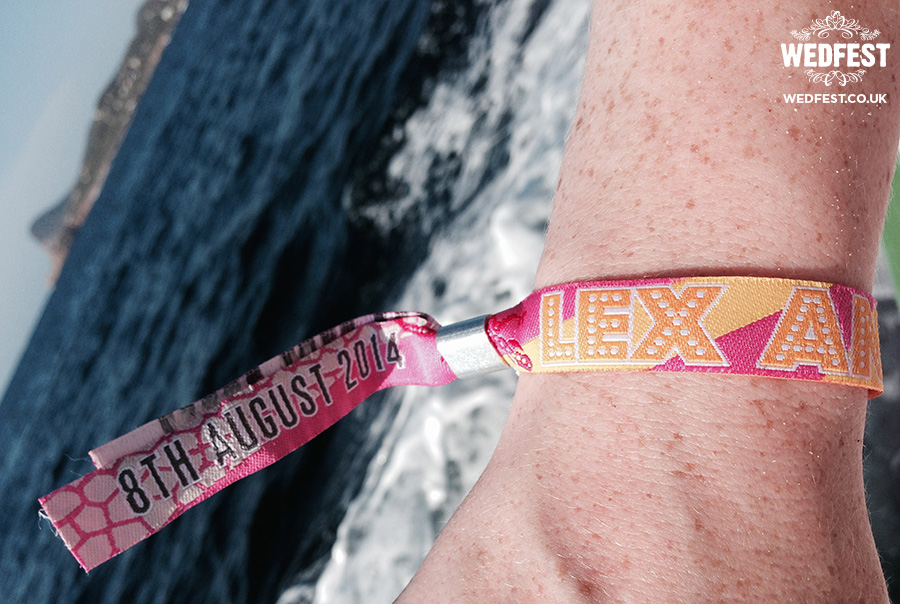 And below you can see a very cool looking couple at the wedding itself modelling the wristbands and its fair to say they look awesome and bring lots of colour to the day. (Thanks to guys for letting me use the photo).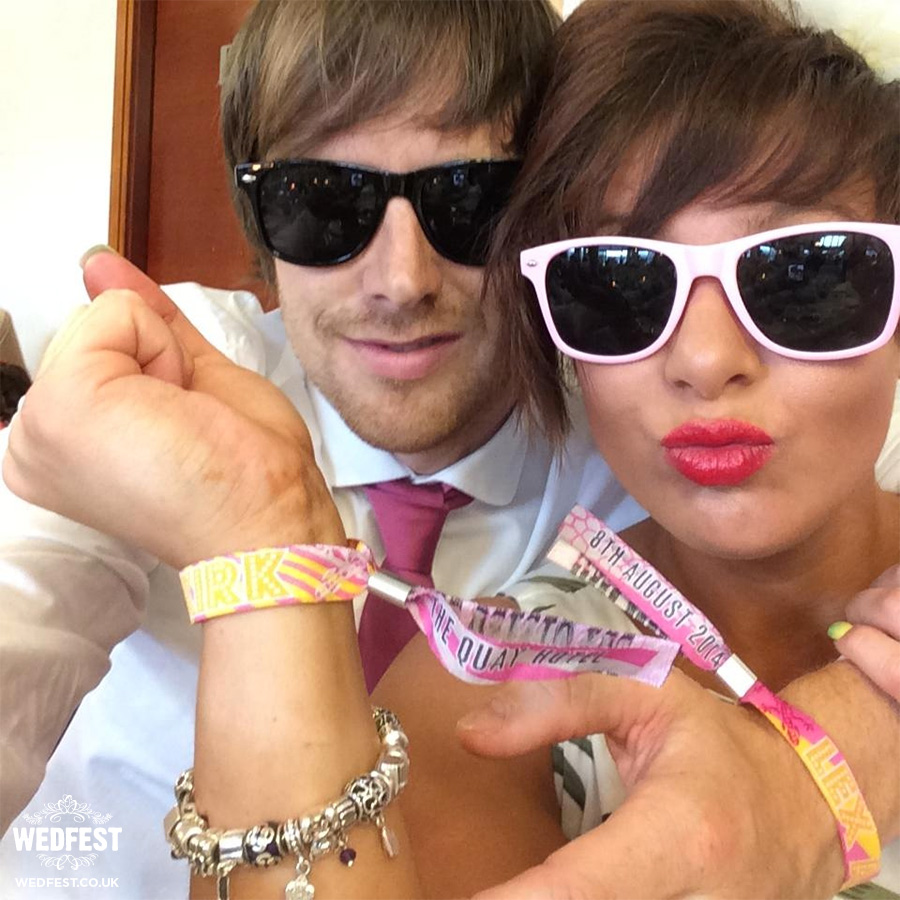 So having visited the island after designing this wedding stationery I was satisfied that I had hit the right notes with what was asked and what was achieved and I have been looking forward to posting it on here since the day it was finished. Congrats to Alexa and Kirk and thanks for getting in touch, I am sure this ibiza themed wedding stationery will inspire many more brides and grooms planning Ibiza Weddings.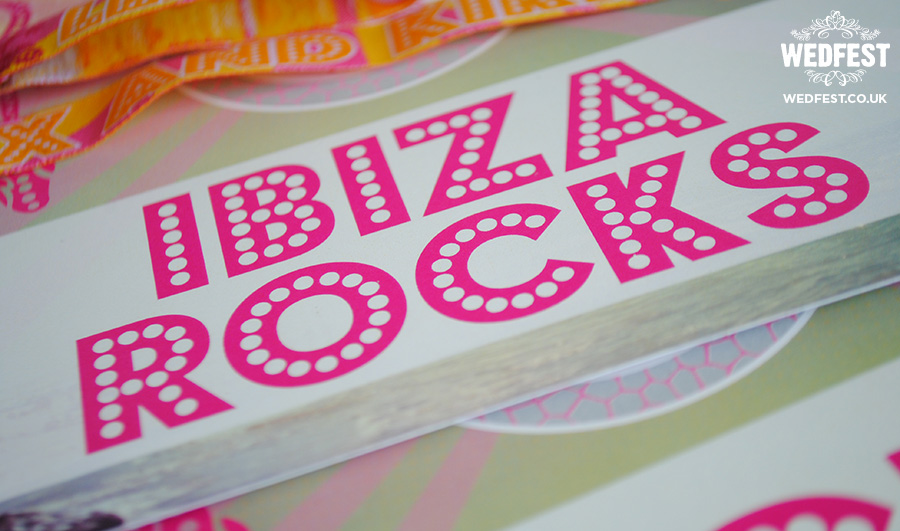 If you like what you see here and are planning an Ibiza themed wedding or are just having an Ibiza Wedding and are getting married there and would like to know more about our wedding stationery please click here to get in touch.
Comments
comments