Harry Potter Themed Hen Party & Bachelorette Party Wristband Favours
Calling all Harry Potter fans! Have we got a treat for you today!! Over this past few years we have been growing our Hen Party Wristbands brand and constantly adding new hen party products and wristband styles to offer you as wide of a range as possible. We have many themes available from Bride Tribe, Team Bride, HENFEST and many many more, and more recently we have started adding new themes such as Baewatch, Baechella, I Do Crew and loads more. One that we have been asked about quite a few times was 'Have you got any Harry Potter themed hen party accessories?' …. Well, we do now!!! Introducing these fantastically magical Harry Potter Hen Party Wristbands.
As many of you are huge fans of our favourite wizards and love having Harry Potter themed Hen Parties we thought it was time for an awesome new hen party accessory to go along with your wizard costumes, potter glasses, magic wands and Gryffindor House ties and scarves.

So we came up with these awesome new harry potter hen and bachelorette party wristbands. We have four new wristbands for you to choose from which hopefully will cover all of your needs. The first wristband option is for Harry Potter Hen Party Wristbands.
Harry Potter Hen Party Wristbands
These fabulous Harry Potter Hen Party Wristbands. The design of all the wristbands features the colours of harry potters famous Gryffindor House uniform in grey, red, yellow and back. The main text on the wristbands reads HEN PARTY with a harry potter style scar / lightening bolt inbetween the words. The text is in white against a grey background with a red shadow.
On one of the tails of the wristbands it has the text Howarts Hotties in black text against a red and yellow striped background similar to the Gryffindor ties and scarves. On the other tail it has the text Brides Witches in white against a red background. The design also features little rounded glasses and lightening bolts in tribute to our favourite wizard.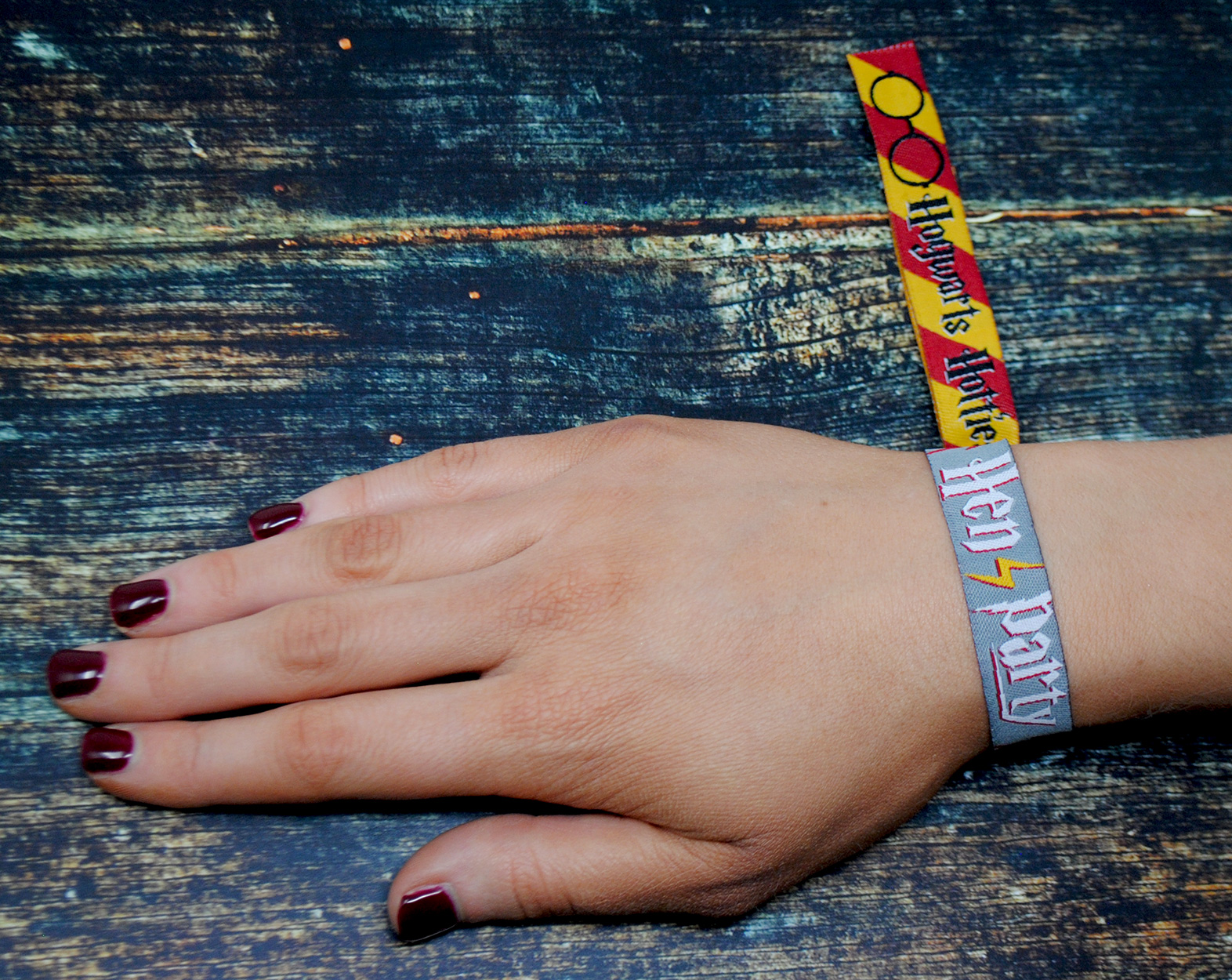 hen party wristbands harry potter theme

Harry Potter Bachelorette Party Wristbands
The second option for all you Harry Potter fanatics is these Harry Potter Bachelorette Party Wristbands.
These are the exact same in design and style as the hen party version above but these are for our American Bachelorette Party ladies. So if you love all things harry potter but are having a bachelorette party instead of hen party these are the accessories for you.
Harry Potter Muggle to Mrs – Bride to Be Wristbands
Of course we could not make all these awesome wristbands without making a special one for the bride to be herself.
These wristbands are especially for the Bride so that she can stand out from the rest of the group. The wristband features the same design and colours as before but on the main part of the wristband it has the text Bride to Be. On the tails against the red and yellow Gryffindor background it reads Muggle To Mrs and then on the other side it reads Hen Party.
Harry Potter Bridesmaid Hen Party Wristbands
Our final option for your harry potter themed hen parties and bachelorette parties is these awesome Bridesmaid Wristbands.
We have learned over the years that you hen party ladies like the bridesmaids to stand out from the gang so we had to make this bridesmaid version.
These wristbands are the perfect hen party accessory for all you Hogwarts fans out there planning a wizard themed hen party.
These wristband bracelets will work perfectly with your harry potter costumes and are perfect for putting into hen party gift bags.
If you like the look of these magical hen party accessories and want some for you and your girls click on the links to order or click here to buy them.

Comments
comments