Festival Tickets Wedding Invites – Here is a few recent festival ticket style wedding invites I have worked on over the past few months. This first one is a remake of one of the very first festival themed wedding invitation designs I worked on a few years ago. Its a simple design featuring some silhouttes of a crowd dancing and some sun rays in the background all in varying shades of blue which is the theme colour of this couples wedding. Then there is couples name and wedding details in large white type in a festival logo style. To the left is a detachable RSVP stub which the guests can tear off and send back to the bride and groom to be.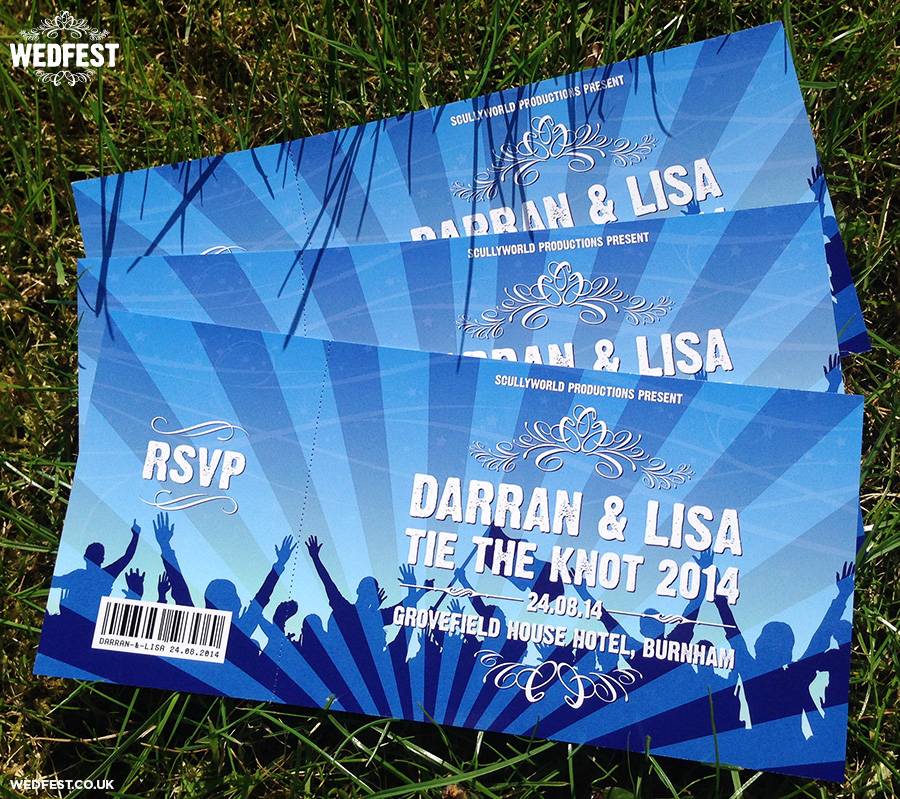 This is one of my earliest and most basic designs but still one of the best as it has been copied (badly) many times but here at WEDFEST is the original home of this design. See the very first version of it by clicking here.
This next one is another popular design I have done for a lot of couples. This couple were having a green and purple colour theme for their festival wedding and wanted a wedding invitation that would add a bit of a festival feel to their wedding. This design has a concert/festival crowd partying in front of a live band with a Tipi / Tent in the background and the sun setting over the hills, with some flowers on either side of the main text which reads OUR WEDDING. Again these invites are made in a ticket style with a detachable stub so that the wedding guests can tear off the RSVP stub and send it back to the couple getting married.
This next one is more of an updated version of the design above. On this invitation design the couple were having a festival wedding but wanted more of a whimsical wedding invite design. They wanted to create the idea of a festival but without using the imagery of crowds of people, live music etc. They wanted me to design them an invitation with a countryside feel with lots of fields, tents, tipis, bunting and trees etc as this was a representation of the the type of place they are getting married which is called Ridge Farm Studios in Surrey. They are getting married under 2 large trees which is also featured in the design. They also are having all their guests stay in tents, bell tents and tipis and all of these are featured on the wedding invitation design.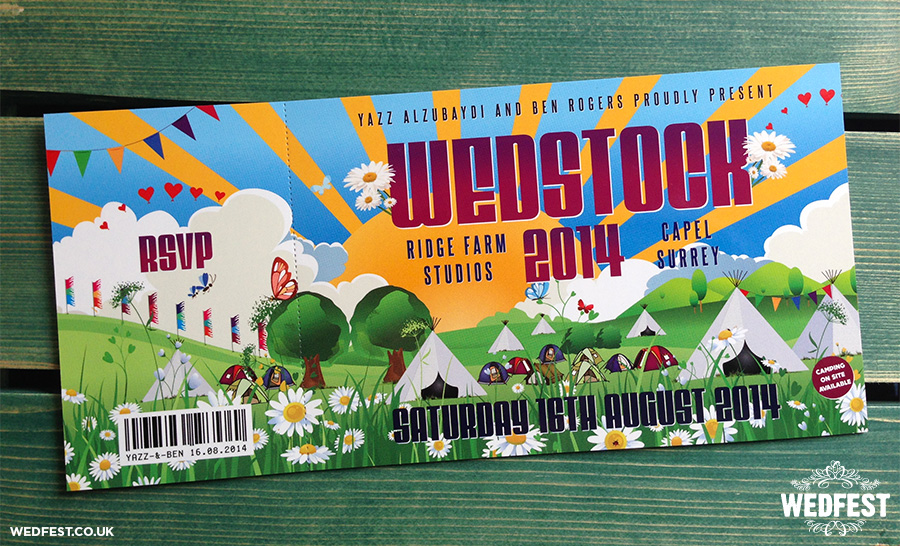 If you like the look of these Festival Tickets Wedding Invites or any of the festival wedding stationery on this website please click here to get in touch.
Comments
comments