Corporate Event Party Invitations – As well as wedding stationery we provide alot of stationery for corporate events and business and company parties all throughout the year. This set of corporate event invitations was for a client who was holding a large company party called the 'Grand Summer Party' for 100's of staff and clients at Froginwell Vineyard, back in June. They had liked the look of our festival and summer themed designs and wanted a similar look and feel for their party invitations and posters.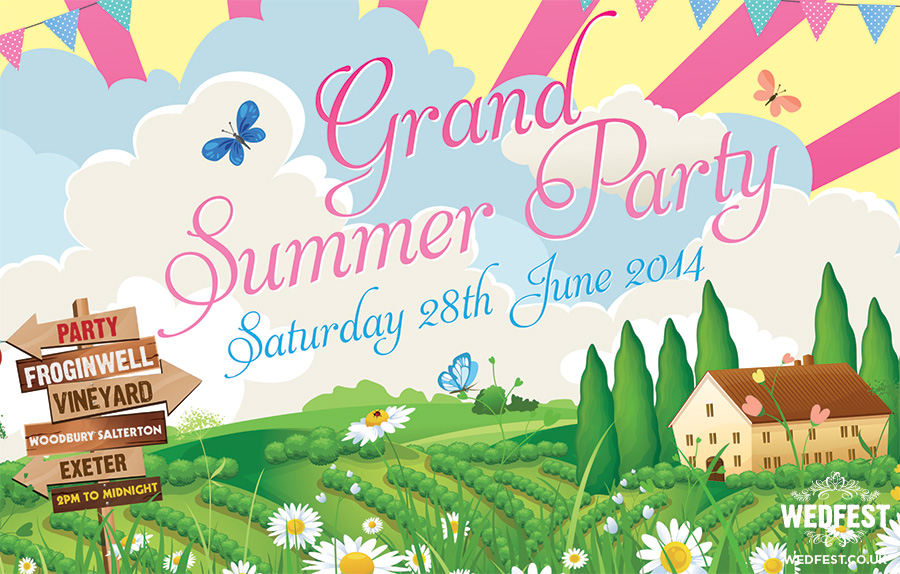 For the design we used one of our existing countryside scenes and updated it by adding in vineyard fields and a large building to represent Froginwell Vineyard where the party was being held.
The design also featured summer bunting and a wooden signpost with details of the party. The reverse side of the event invitations featured further information on the party. The invitations were designed with a tear of RSVP stub so that those invited could easily reply to their invite.
As well as the event invites we also designed and printed posters for the event which were placed around the office workplace to advertise the party to the staff.
We can create corporate event and party stationery for all types of businesses. Over the coming weeks we will be posting more corporate and business event stationery on the website so keep an eye out for those. If you are interested in getting some stationery or invitations made for your party or event please click here to get in touch.
Comments
comments