Kirsty and Elaine's Wedding in The Caves Edinburgh – The Caves is a very popular wedding venue in Edinburgh, Scotland. Over this past few years I have created lots of wedding stationery for couples who have had their Wedding Receptions in The Caves, and they do so for good reason as the place really unique and extremely cool, if you haven't heard of it or seen it before google it now. The latest couple who I provided wedding stationery for who had their wedding reception in the Caves was Kirsty & Elaine.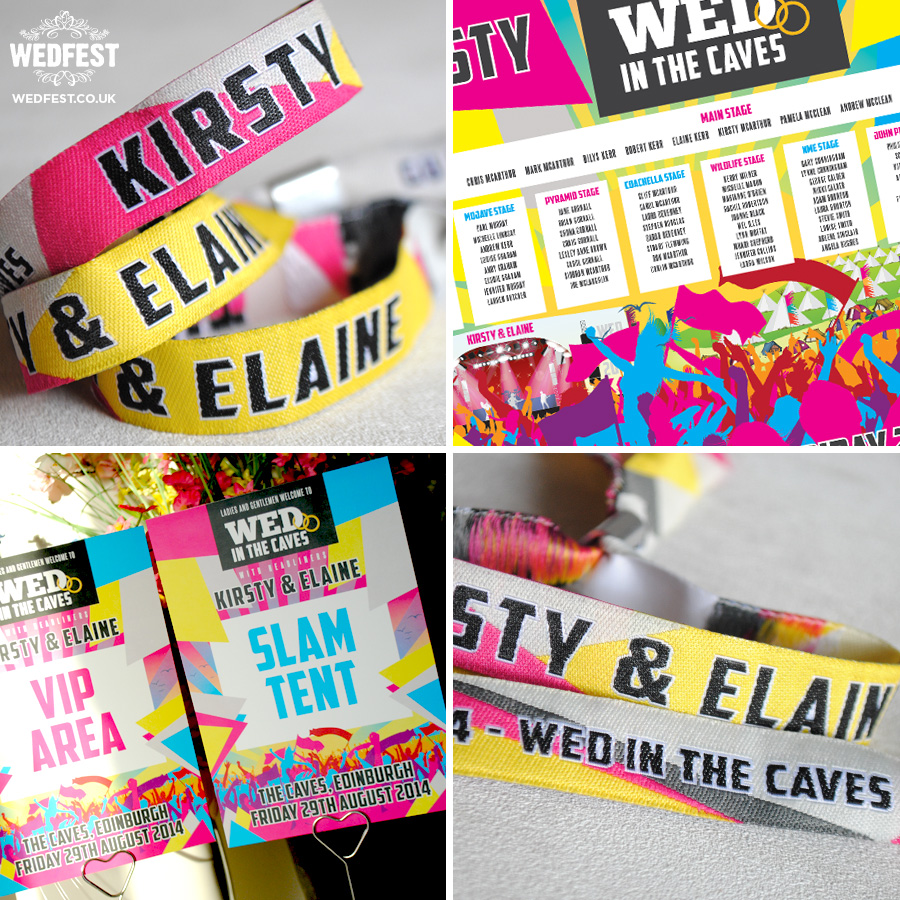 Kirsty and Elaine already had their wedding invites made when they came to me and they had a logo designed for their wedding which they wanted to use for the rest of their wedding stationery. They came to me looking for wedding festival wristbands for their wedding guests and also a wedding table plan and matching wedding table cards.
The first thing we worked on was the wristbands. The Ladies had a colour scheme they wanted used for the wristbands of yellow, magenta, grey and black. The details they wanted to include on the wristbands was their names, the wedding date, the tag line 'WED IN THE CAVES' and the words 'GU BRATH' which is Scottish Gaelic for 'Forever' which was a nice touch as the they two Ladies were both Scottish. The festival wristbands were wedding favours for the guests and the couple asked the guests to wear them throughout the wedding to add to the festival atmosphere the girls wanted to create for their wedding day.
For the wedding reception I then designed Kirsty & Elaine an awesome wedding table plan for The Caves which was super bright featuring hot pinks, blues, yellow, greys and more. The table plan was festival themed and each of the wedding tables was named after a festival stage from a festival that the couple had attended.
To match the wedding table plan I also made matching wedding table cards for the wedding tables which followed the same funky design from the table plan. The table names were all festival stage names or festival areas such as VIP Area, Slam Tent, John Peel Stage, NME Stage, King Tuts etc.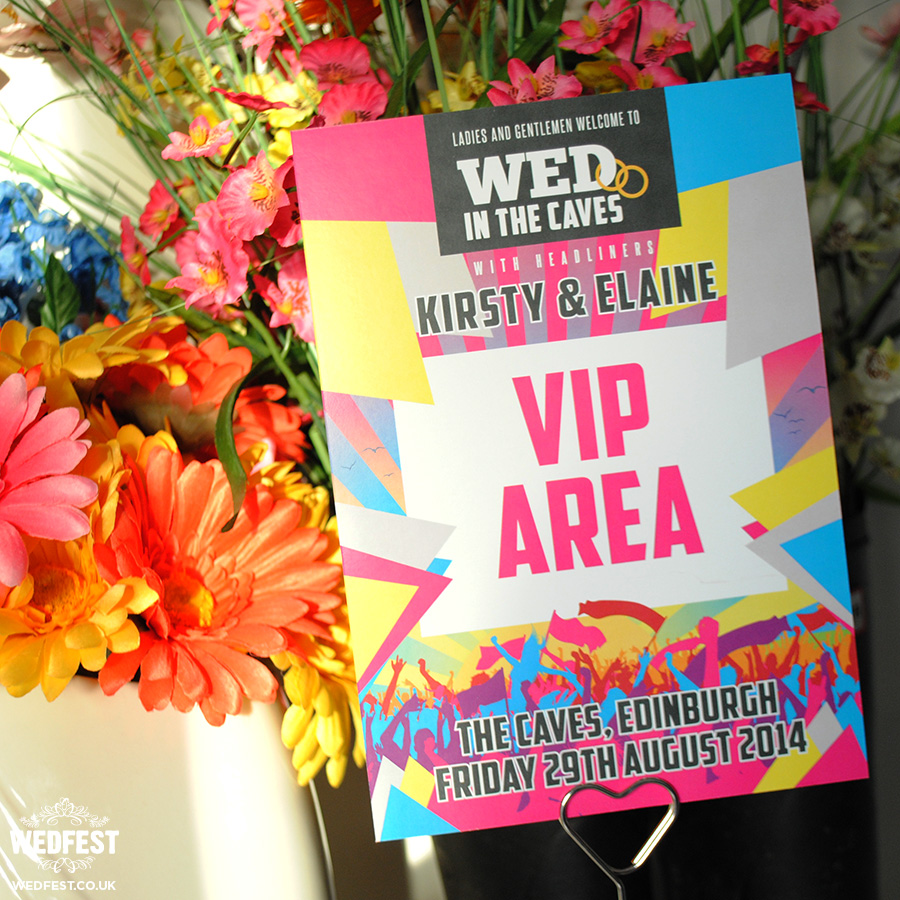 If you like the look of the wedding stationery you have seen here or are having your own wedding in the Caves Edinburgh or need some same sex marriage wedding stationery created please click here to get in touch and see what magic WEDFEST can sprinkle on your wedding day.
Comments
comments